6th Annual Wine Club Hands On Harvest
| | |
| --- | --- |
| Date: | Sat, Aug 11, 2018 |
| Time | 8:30 AM to 1:00 PM |
| Venue: | Becker Vineyards Winery 464 Becker Farms Road |
| Contact: | Becker Vineyards Wine Club Department |
| Phone: | 830.644.2681 x230 |
| Email: | wineclub@beckerwines.com |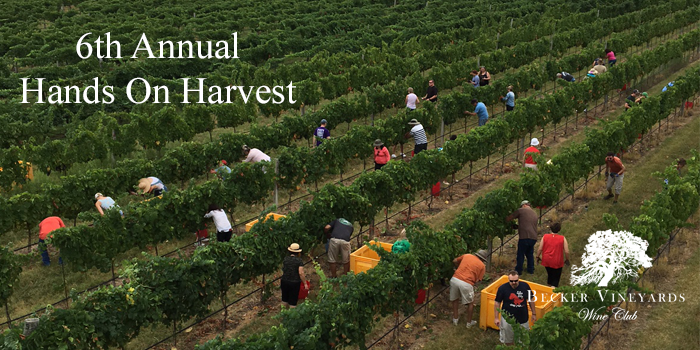 Our 6th Annual Hands-On Harvest event is scheduled for August 11, 2018!
As a member of our Wine Club, we invite you to join us for a behind the scenes look at wine production.

We start early and spend a good portion of our time outside in the Texas summer sun. So make sure to dress appropriately with comfortable shoes, hats, and sunblock. We will provide water throughout the day.

8:30am - Check in / Beverages & Donuts in the Vineyard
9:00-9:45am - Hand Picking in the Vineyard
Break
10:00am - Process Harvested Grapes
11:00am - Lunch

***Wine from the grapes picked by last year's group is still aging!!
We will be able to sample a little of the unfinished product with our lunch.

Tickets are $50.00 per person and include snacks upon arrival, lunch, and a Harvest t-shirt!

COMING SOON! WATCH YOUR EMAIL FOR UPDATES!