August E's Wine Dinner - Friday, March 9th
in beautiful Fredericksburg, Texas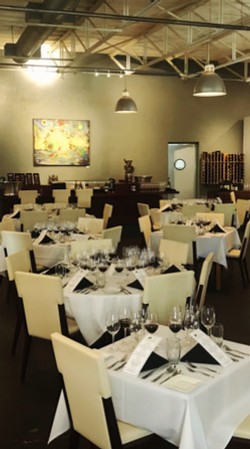 Enjoy a four course meal with Dr. and Mrs. Richard Becker on Friday, March 9th, 2018. The courses will be paired with Becker Vineyards winery exclusive wines and new releases.
Reception to begin at 6:45 pm - Dinner will be served at 7:15 pm
Reservations and tickets must be purchased through Becker Vineyards.
$95/person plus tax (gratuity is included in price)
*Wine Club Discount not available for this dinner - choose "Pick Up at Becker Vineyards" as we will not be shipping tickets for this event.

Menu
Reception
Roasted Potato Cup with Melted Roquefort, Red Onion & Bacon
2016 Saigné Rosé
First Course
Warm Squash, Apple & Lentil Salad
2015 Prairie Cuvee
Second Course
Salmon with Morels, Leeks, Sweet Peas & Chervil - Butter Sauce
2015 Chardonnay Reserve
Third Course
-Tres Viandes-
Medallions of Lamb, Kobe Beef & Axis Deer with Pureed Parsnip, Broccoli,
and Herbed Demi Glace
2014 Raven, 2015 Cabernet Franc Reserve,
2015 Primavera Merlot
Fourth Course
Ricotta Cheesecake with Spicy Pear Compote,
Caramel Drizzle & Pecan Dust
2015 Clementine - Madeira Style