Autunno 2014
Le Quattro Stagione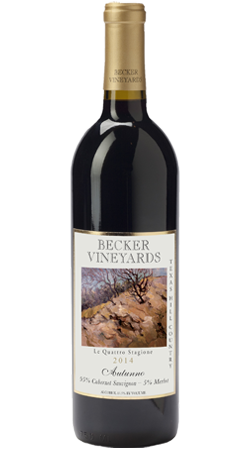 The first of our 2014 Le Quattro Stagione "Four Seasons" series, The Autunno, is a blend of 95% Cabernet Sauvignon and 5% Merlot. A truly balanced wine, displaying fruit forward notes, complex maturity, finishing in soft, yet rich tannins.
Wine Specs
Appellation
Texas Hill Country
Harvest Date
September, 2014
Aging
Aged in a blend of French and American oak barrels for two years
Bottling Date
November, 2016
Wine Profile
Tasting Notes
Aromatics: Tobacco, cedar, roasted coffee, rose and violets On the Palate: Full red fruits, warm, soft tannins, coffee and dark chocolates
Awards
2017 San Francisco Int'l Wine Competition - Gold Medal
Food Pairing Notes
Beef, wild game and rich sauces
Product Reviews
https://essaysthatwins.com/
(Nov 24, 2017 at 1:44 AM)
I had tried several wines before and any I had tasted had been sweet and sweet. This wine is none of that - recent & zesty with a beautiful acidity....I know what i will be drinking countless this summer!!
Jordan Grace
(Jun 27, 2018 at 10:30 AM)
My wife visited the winery and brought this wine back for me. It was delicious, it was light enough to drink casually and with food while also having a very robust and full flavor. I just wish I could find it here in New Orleans!
Jeff Kohley
(Sep 26, 2018 at 12:26 PM)
Love Bordeaux style wines like this. On a QPR (Quality Price Ratio) scale this wine does very well. If you are looking for a nice tame drinkable Cab this is an excellent choice. Becker has it dialed in comparison to the other Texas wineries we visited. Nice tasting room, good staff, nice wines and reasonable price points.