Clementine 2012

---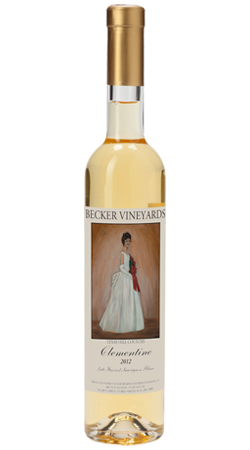 Late Harvest Sauvignon Blanc - a rare treat, indeed. Allowing the grapes to hang on the vine until flavors and sugars concentrate, the fermentation then takes place in 55°F stainless steel tanks, until it naturally shuts down at 5-6% residual sugar. We then fortify with grape spirits, age in neutral French oak barrels for more than 2 years. The end result is a beautiful wine, rich in deep honeyed citrus and tropical fruits. A delight with any dessert.
Aromatics: Heady jasmine, honeysuckle and citrus, ripe guava
On the Palate: Complex flavors of honey, overly-ripe honeydew, citrus and tropical fruits
Wine Specs
Appellation
Texas Hill Country
Harvest Date
August, 2012
Aging
Neutral French Oak barrels
Wine Profile
Food Pairing Notes
Creamy desserts such as Cheesecake, soft-ripened cheeses
Product Reviews
Jeff Chittenden
(Nov 23, 2018 at 11:31 AM)
A wonderful desert wine. Goes best with fruit deserts and really showcases the fruit.
W Scott Leigh
(Dec 30, 2018 at 3:50 PM)
Sweet desert wine. I really like it.
Tim
(Apr 4, 2019 at 8:55 AM)
We enjoyed a bottle with a cheese at Becker Vineyards last weekend. This bottle made the experience wonderful!
Kierra Bonner
(Apr 14, 2019 at 2:08 PM)
I really enjoyed this wine at the Chef's table. The chef paired this with banana foster which made for a delicious dessert.
Kathi
(Apr 19, 2019 at 1:26 PM)
Really a nice wine - I tasted a glass at the winery and liked it so much that it came home to Colorado with me!
Nancy
(Jul 27, 2019 at 3:35 PM)
Fabulous treat!!
Jeff Baird
(Sep 26, 2019 at 11:37 AM)
Wonderful wine with great flavor and balanced sweetness.
David R.
(Apr 2, 2020 at 3:48 PM)
My wife and I ordered half a case of out favorite, Fleur Savage, We decided to fill the rest of the case with random wines. Wow! Did we love this wine. Hearty, sweet, and tasty! We will definitely be ordering more. Can't wait to have it again with desert! Yum!
Dennise Maldonado
(Oct 2, 2020 at 9:13 AM)
I tried a sample at the actual Becker Vineyard and I fell in love, I've often searched for it at HEB to no luck and I went to visit Fredericksburg and low and behold they have a beautiful shop on main and I found this Devine treat of a wine, I do wish the amount of wine and size of bottle was bigger it's on the narrow side but it is a delicious luxurious gift for the senses and soul, I feel transported, pampered, and like a goddess when I have a glass in hand of this amazing wine, it's very bold, aromatic, sensual and intense in flavor and delivery everyone should try this wine at least once!⭐️⭐️⭐️⭐️⭐️
Joan Hosbach
(Jan 13, 2021 at 9:10 AM)
Love, love this wine. Have bought it before, but stopped on my way home and got more. You will not be disappointed