Dry Riesling 2015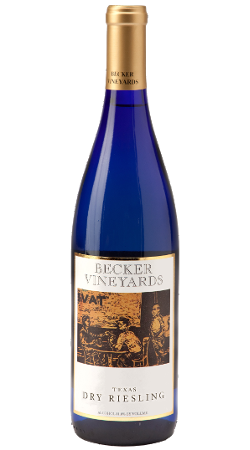 This "New World" style wine tends to favor the fruit and floral components of the grape itself.
We harvest a small portion of the Riesling grapes "green" retaining higher acidity and lower sugars. This portion we use to give the final wine brightness and structure from the natural acid in the grapes.
This Dry Riesling is a fine example of the fruit, finishing with notes of apple, apricot, and a sublime note of citrus in the mouth.
Aromatics: White floral notes, apple, hints of citrus
On the Palate: Ripe gooseberry and white cranberry, lime peel, apple
Wine Specs
Harvest Date
September, 2015
Fermentation
Stainless Steel
Residual Sugar
Off-Dry 7 g/L
Wine Profile
Food Pairing Notes
Spicy Asian cuisine, TexMex, rich butter sauces and hearty German fare
Product Reviews
Paul Schilling
(Mar 25, 2018 at 10:19 AM)
This is a very special dry white wine
CEDRIC BOYD
(Aug 17, 2018 at 2:24 PM)
You will be impressed by the quality and overwhelmed by the delight of the fruitfulness of this Texas proud wine. This is really in a class by itself, not only in Texas but would score high internationally. Really good buy!
Katie
(Oct 11, 2018 at 12:17 PM)
I am usually not a fan of Riesling as it is normally too sweet, but this tastes more similar to a fruity Sauv Blanc. Light, citrusy, and fruity without the heavy sweetness that typically comes from a Riesling. Very delicious!
Richard Dahlen
(Feb 11, 2019 at 12:05 PM)
Great wine, I had mine shipped. My case was packed in very secure packaging. World class.
Josiah
(Apr 30, 2019 at 10:12 AM)
I don't like riesling or any type of sweet wine, but this dry white is so floral and fruity that it tricks your tounge into thinking you are drinking something sweet without the sugar on your palate. Execelent quality wine, very smooth and a little too easy to drink...