Gift Box 2021 - 3 Bottle - Premier Reds

---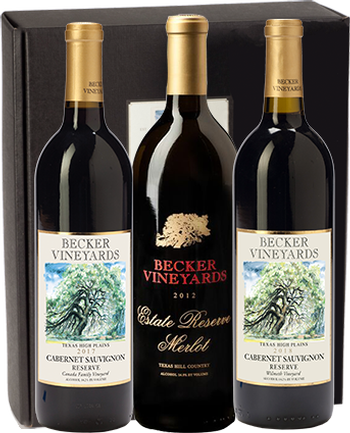 All Gift Box orders will be shipped out within 5 business days of order date,
unless customer specifies different request.
2012 Estate Reserve Merlot

The 2012 Estate Reserve Merlot is comprised of grapes from our own vineyard in Stonewall, TX. Medium-bodied with soft tannins, dark red fruits with muted floral, herbal, and tobacco notes, this wine was made to pair with your favorite leaner meats and savory mushroom sauces. We aged this vintage in a mixture of French and American oak barrels for up to three years, resulting in a silky wine with a lingering earthy finish.

2017 Cabernet Sauvignon Reserve Canada Family Vineyards

This Cabernet Sauvignon exclusively grown by the Canada Family from Plains, Texas showcases some of the best fruit this state has to offer regarding wine! Aromas of rich cherry fruits and forest floor earthiness open to a fruit forward palate of bright red fruits. Aging in a mixture of American and French oak barrels provides the balanced structure with soft, round tannins. This wine will entice you to a second glass, but be aware! You may not want to share with others. To counter this, we suggest two bottles - one for you, one for tomorrow.

2018 Cabernet Sauvignon Reserve Wilmeth Family Vineyards

This Cabernet Sauvignon is exclusively grown on the Wilmeth Family Vineyards property in Tokio, TX. This Cabernet is a big wine, dark fruits forward on the nose and palate; medium-bodied and rich, it begs for attention of either wild game or a nice beef tenderloin. Aging Cabernet in predominately American, neutral oak barrels allows the fruit to shine and the tannins to mellow. This wine opens with an extravagance of florals and fruits. Decadent, ripe dark fruits balance medium tannins, while smoky oak balances the herbal notes, leading to a lush, long finish .
Product Reviews