Gift Box 2021- 3 Bottle - Mixed Wine

---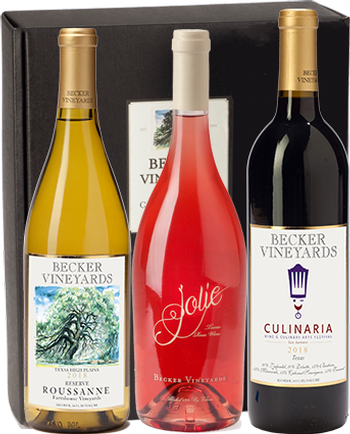 All Gift Box orders will be shipped out within 5 business days of order date,
unless customer specifies different request.
2018 Roussanne Reserve

Originating in the Rhone region of France, a late-ripening white grape yields intense aromas, deep, gold hue, and full flavor. Grown on the West Texas High Desert Plains in Meadow, TX, our Roussanne displays fantastic minerality, bright fruit and herbal notes. A cold fermentation in tank with partial malolactic fermentation creates a crisp, yet creamy medium-bodied wine.

2018 Jolie

Using the saignée method of "bleeding" juice from Cabernet Sauvignon, Malbec, Petit Verdot, Petite Sirah, and Zinfandel grapes gives the 2018 Jolie the fuller bodied, fruit-forward style. Fermenting at cool temperatures, much like a white wine, ensures the fruity and floral aromas. It is the perfect wine for both red and white wine lovers to enjoy; the wine of compromise, at home on a warm summer day or elegant evening dinners.

2018 Culinaria

Culinaria is one of the most seductive, alluring food friendly wines yet. From the bright red fruit on the nose to the full mouthfeel, this lush, pliant wine caresses your senses with unabashed forwardness.

The celebration of the Culinaria Wine and Food Festival is a wine that changes each vintage, always with food pairing in mind. This particular vintage boasts SIX different varietals from the great vineyards of the Texas Hill Country and Texas High Plains AVAs, including Zinfandel, Dolcetto, Barbera, Mourvedre, Cabernet Sauvignon, and Tannat.
Product Reviews