Sunday, May 6 - Lavender Festival Riedel Tasting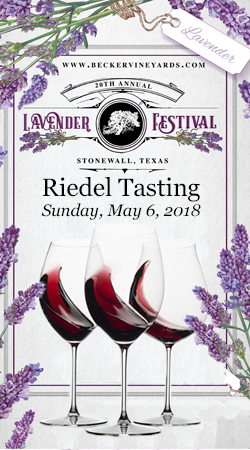 Join us on Sunday, May 6th at the 20th Annual Lavender Festival for an educational experience that is sure to WOW your palate!
Becker Vineyards is partnering with Riedel, The Wine Glass Company. Another family owned business, Riedel has been revolutionizing the glassware industry since 1756. The only company to create a complete line of varietal specific wine glasses, Riedel is the premier choice for any wine lover.
Learn how and why to pair your favorite wine with the perfect glass. Utilizing a set of three Riedel wine glasses, we will taste through some of Becker Vineyards award winning wines to demonstrate the dramatic relationship between wine and its vessel.
The set of three Riedel glasses valued at $104, is yours to keep!
Join us at the Becker Vineyards Winery Location: 464 Becker Farms Rd. Stonewall, Texas 78671
Check in at the Barrel Chai by 12:15pm - event begins at 12:30pm.