Premier 3 Bottle Wine Gift Box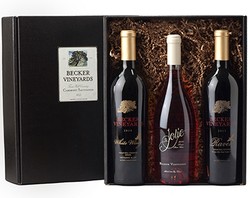 2015 White Wing - A blend of semillon and sauvignon blanc from our estate vineyard, made in the Bordeaux style in French Allier oak; it flows like sunrise over a field of Texas Sunflowers and the first wing shot of Autumn.
2015 Jolie - The inspiration for Jolie comes from the fantastic Rosé wines of the Alto Douro, Portugal and Duero River Valley in Spain. The grapes for Becker's Jolie are Tempranillo, Syrah, and Grenacha. This juice comes from the Saignée (bleeding of the tanks) of red varietals giving Jolie its full body.
Lone Star International Wine Competition 2017 ~ Gold Medal Winner (Texas Competition)
2014 Raven - The 2014 Raven is a most aromatic blend of Malbec and Petit Verdot with a hint of Cabernet Sauvignon - a nod to the style of Malbecs made in the Mendoza area of Argentina. This vintage displays a highly concentrated body, as well as good tannic structure.