Saigné 2016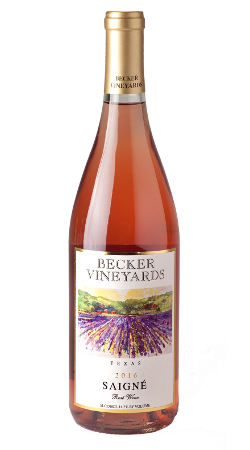 Saignee – "To Bleed" – this is how we collected the juice for this rosé, from bleeding the tanks of our top red varietals on the day we crushed them into tank. We start with Tempranillo, Mourvedre, Syrah, Petite Sirah, just to name a few, and then we saignee the juice from the tank. We then combine all the varietals together and ferment them as if they were white wine, nice and cold. It is a perfect choice for red wine drinkers in the summer or white wine drinkers that want a more bodied wine for food.
Aromatics: Deep florals of violet, peach and raspberry
On the palate: Cherry and red fruit with herbal notes of lavender and roses.
Wine Profile
Tasting Notes
ON THE NOSE: Deep floral aromas of violet, peach and raspberry with candied watermelon ON THE PALATE: Cherry, strawberry and red fruit with herbal notes of lavender and roses
Vineyard Notes
Sourced from growers in both the High Plains and Hill Country AVAs, the 2016 Saigné expresses what it means to be a rosé in Texas.
Production Notes
Saignée, a French term meaning "to bleed" is the process we used to create our winery exclusive rose. Limiting skin-to-juice contact we "bleed off" 5 -10% of the juice from the red varietals. This juice is cold fermented, retaining florals bright fruits.
Winemaker Notes
A dry rose, this wine is meant to be consumed "young" and is the perfect wine for both red and white wine lovers.
Food Pairing Notes
Any fish, grilled or baked, lamb, goose, hard cheeses, salsas