Becker Lavender
---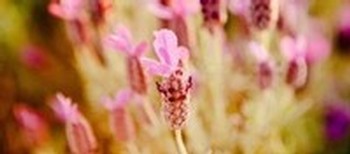 The complex sweetness of Viognier grapes led endocrinologist, Dr. Richard Becker and his wife Bunny, to be the first to commercially plant Viognier in Texas. They visited France to learn everything they could about the ancient varietal. The southern Rhone River Valley of Provence with its hot, dry summers and soil of sand and granite reminded the Becker's of their vineyard in the Hill Country of Texas, with one stunning difference. Rows upon rows of vibrant lavender stretched from the country roads, dazzling their eyes and filling their noses with pungent perfume. The Becker's were hooked. They returned to their vineyard and with help from friends and their daughter, Clementine, planted 10,000 lavender plants in June of 1998. Varieties included Lavandula x intermedia 'Grosso' and 'Provence' along with Lavandula Stoechas. They embellished their vision with the artistry of impressionist painters, adding yellow sunflowers, red poppies, blue bonnets, mealy blue sage and artichokes. The three acre lavender field ran alongside the Becker's impressive winery. The 10,000 square foot reproduction of a nineteenth century German limestone barn was surrounded by peach tree orchards, a milk house, a well, windmill and an 1890 log cabin. But Texas weather wrecked a nightmare on the Becker's lavender vision. In 2000 they planted 700 new plants and lost 85% to a heat wave and drought. In 2002, thirty inches of rain fell in a week and killed 60% of the field. The Becker's kept searching for varieties that stood up to the extreme weather. They determined that the Stoechas (Spanish) did much better.
Now, visitors to Becker Vineyards enjoy the rewards of the Becker's unwavering determination. They taste award winning wines from the winery and gaze on their lavender fields, trimmed to a more manageable 500 plants. Guest can enjoy the lavender blooming season April through May and can stroll through the rows or sit under the pavilion while enjoying a glass of wine. Chris Perrenoud, the Lavender Manager, offers a myriad of lavender products in the tasting room including handmade lavender soap, eye pillows, sachets, lotion, shower gel, grape seed scrub, lip balm, candles and much more.
The Becker Vineyards Lavender Festival takes place the first weekend of May. The annual event features lavender educational speakers and vendors promoting lavender and other herb related products. There are gardening tips, cooking demonstrations, wine tasting, and the popular vintner luncheons.
---
20th Annual Becker Vineyards
Lavender Festival May 5 & 6, 2018
Join us for the 20th Annual Becker Vineyards Lavender Festival. Sip and swirl with live music, visit over 30 artisans and walk through the lavender fields. There will be plenty of entertainment for everyone, from lavender products to cooking demos, and much more. There is a $5.00 parking fee.
The winery is open for Tastings and General Tours throughout the day!