Lavender Haus
---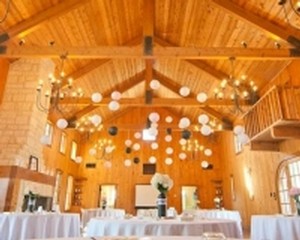 The Lavender Haus Reception Hall is an 1800 sq foot indoor facility offering guests a year round location for wine tastings, lunch or afternoon celebrations, corporate retreats or winery hosted dinners.
The architectural design is replicated from a limestone barn at the L.B.J. National Park's Johnson Settlement in Johnson City, Texas. The timber frame vaulted ceiling, native Cypress walls, wrought iron chandeliers, and large limestone fireplace craft the beauty of the room. Equipped with central heat and air as well as a prep kitchen, this facility can comfortably accommodate 90-120 guests. The Lavender Haus offers an outdoor flagstone patio that is perfectly shaded by a large Live Oak tree and offers an outdoor fireplace.
For more information regarding daytime use of the facilities or help with planning your next corporate event or celebration, please contact Brylie Mutschink, Private Events Coordinator at 830-644-2681 x 325 or events@beckerwines.com.