The Library
---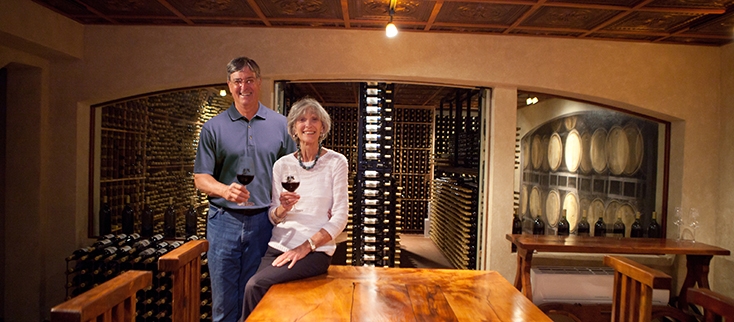 Dr. Richard and Bunny Becker have created the most exclusive wine experience in the Texas Hill Country and beyond with the completion of The "Reserve Wine Library" in the barrel cellar. First established in 1996, the cellar serves as the home of our single vineyard Cabernet Sauvignon program. Gather around the hand hewn mesquite table resting at The Library doors and taste from the portfolio the Becker's have personally held back—until now. Guests can begin their experience with a behind the scenes tour of our production area, discovering our wine on a different level via tank and barrel tastes that culminates with a delectable wine and cheese pairing. Sessions are currently offered at 1pm on Saturdays and seating is limited to 20. Please note The Library is not ADA accessible. Reserve your seat HERE or by calling 830.644.2681 x 230.
"Texas Hospitality at It's Best"
Reviewed February 2, 2013

"We just returned from an amazing afternoon at Becker Vineyards. The facilities are beautiful, with a wonderful tasting room and ample porch, but what was really superb was the "Library" tour we attended. What an experience, to go behind the scenes of an award-winning Texas winery, listening to the stories of their road to success while tasting amazing wine! The tour ended with a tasting in the cellar, and each of the wines were "to die for". But the REAL treat was when Dr. and Mrs. Becker and their son, Joe, joined us on the tour. We felt as if we had known them all of our lives; they were that warm, gracious, and hospitable! We drank wine and shared stories and reminded ourselves that generosity and hospitality are alive and well in the beautiful Hill Country of Texas"!