Primavera 2015
Le Quattro Stagione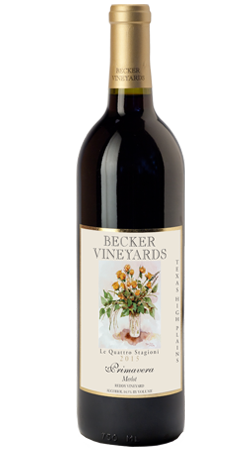 2015 Primavera represents our "Spring" installment of the Becker Vineyards wine series, La Quattro Stagione. With Reddy Vineyards' outstanding dedication to grape-growing in the Texas High Plains, we are able to offer this Merlot.
Aromatics: Rich, jammy fruit with earth, violets and vanilla
On The Palate: Cassis, red fruit, tobacco and tannin with lingering fruit on the finish
Wine Specs
Vineyard Designation
Reddy Vineyards
Harvest Date
September, 2015
Aging
2 years in French and American oak barrels
Bottling Date
January, 2018
Residual Sugar
Dry 0.8 g/L
Wine Profile
Vineyard Notes
Reddy Vineyards, Brownfield, TX Terry County
Production Notes
96% Merlot, 2% Petit Verdot and 2% Cabernet Franc
Food Pairing Notes
Rack of lamb, roasted squash, cream-based soups, wild game
Product Reviews
Marilyn Fraser
(Feb 28, 2018 at 10:04 AM)
This is my very favorite Becker wine. It is so smooth, and very delightful on the palate with a very pleasant finish. All of my celebrations include this wine!
Thomas Kirsch
(Mar 31, 2018 at 9:54 AM)
One of the best red wines I have ever had. Very tasty but also very smooth.
Steve Unszusz
(Apr 1, 2018 at 5:44 PM)
I am giving this 5 stars because I did not expect a Merlot to have so much body. after only breathing for 10 minutes this wine opened up and gave some incredible fruit forward taste. Prior merlots have been good but this is one incredible year