Cabernet Franc Reserve 2017

---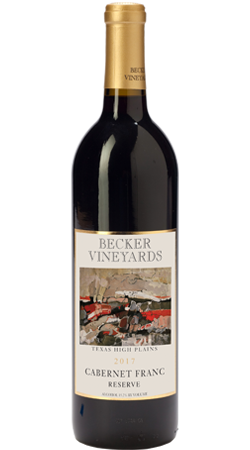 2017 was an exceptional vintage year. The 2017 Cabernet Franc Reserve is a great example of this. Reminiscent of the Old World Loire Valley with fruit, body and structure underpinned by lavish tannins, layers of developed fruit, including the beloved green notes epitomizing Cabernet Franc, come forward with deep violet and cassis nose. Following are notes of mild pepper, wood violet and red fruit (think red berries) around the edges. What unfolds from there is an intriguing sublime note of rich tobacco, oak and dark bittersweet chocolate on the finish.
Our barrel program included 40% new oak – of which 70% was French Oak and 30% American Oak. Aged for 18 months on lees, allowing for full body and mouth feel development.
Aromatics: Bell and chili peppers, cayenne, raspberries, red plums, toasted vanilla, oak
On the Palate: Red currant, ripe raspberries compote, petrichore, med-high acidity and med-high tannins
Enjoy now, age 7-10 years
Decant 30 mins
Serve 60-68ºF
Wine Specs
Appellation
Texas High Plains
Harvest Date
August - September, 2017
Aging
20 months in French and American oak barrels
Fermentation
Stainless Steel and oak barrels
Bottling Date
April, 2019
Residual Sugar
Dry, 1.2 g/L
Wine Profile
Awards
2019 Lone Star Int'l Wine Competition - Best in Category & GOLD Medal, 2020 San Francisco Chronicle Wine Competition - Bronze Medal
Vineyard Notes
Bingham Family Vineyards "Old Place" Vineyards (Meadow, TX) Reddy Vineyards (Brownfield, TX) Amanecer Vineyards Merlot (Sundown, TX)
Food Pairing Notes
Hard aged cheeses, lamb, wild game and rich seafood
Product Reviews
Laurie Groth
(May 16, 2019 at 12:17 PM)
Just received the Cabernet Franc and it is one of the best! So good and will be ordering more! On a scale of 1 to 5 it's a "10"!
Elaine L
(Jun 10, 2019 at 6:01 AM)
Delicious! My favorite, and we tried them all!
Alan Massengale
(Oct 6, 2019 at 3:21 PM)
Excellent, smooth and interesting, and we only aged it 1 year.
Paul H
(Nov 9, 2019 at 8:42 AM)
Very well balanced wine, smooth and exceptionally drinkable.
Alan Massengale
(Mar 23, 2020 at 12:15 PM)
Agree with other reviews. We were surprised how good it is!
Craig Tompkins
(Apr 1, 2021 at 9:52 AM)
Terrific taste and great body to the wine.