Dried Lavender Florets

---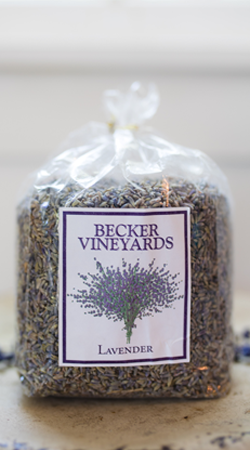 Lavender florets can be added to any potpourri or used in sachets. Sachets may be used in closets and drawers as its natural aromas repel moths. In spite of being the insect world's pickiest eaters, it seems moths do not share our attraction to the purple flower's perfume. 1/4 lb bag
Product Reviews
ANGIE
(Jul 2, 2018 at 6:33 PM)
Makes an AWESOME lavender lemonade!!!
Marilyn
(Aug 14, 2018 at 4:39 AM)
Exceptional sachet fragrance! Pillow pockets with Becker lavender florets are great gifts
Nicholas Vela
(Aug 27, 2020 at 6:44 AM)
A great product. The smell is heavenly and perfect for refilling my Sachet Petites. They also work well with my tea making.
Kathy McCabe
(Nov 15, 2020 at 9:00 AM)
I found a small bag when i was cleaning out my closet and it still had such a nice aroma. I have no idea when or where I got it from, but was pleased it had your tag on it. It was easy to locate you and place my order. LOVE!
Tamara L Leonard
(Dec 23, 2021 at 5:32 PM)
Their fragrance is very relaxing and delightful.
Latasha
(Feb 17, 2022 at 4:47 AM)
An absolutely beautiful scent!
Jenna Villarreal
(Apr 20, 2022 at 10:42 AM)
Loved this product. Great for teas and facial steams!
Denise B.
(Jun 7, 2023 at 1:43 PM)
Fragrance is fresh and bold. Perfect size for using all around the house!