Grape Seed Body Scrub

---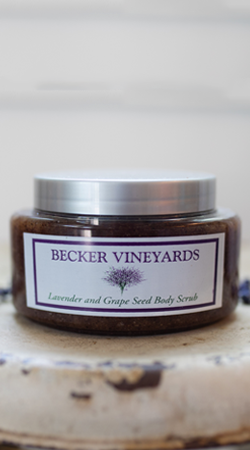 Helps to exfoliate dead skin cells, softens and nourishes your skin. Handcrafted with Becker Vineyards Estate grape seeds. 16 oz
One week free shipping!
Product Reviews
Paola Martinez
(Jun 15, 2018 at 8:28 AM)
I have been searching high and low for a scrub that would help with my arm and leg "bumps" aka Keratosis Pilaris, and this has just TRANSFORMED my skin. It looks and feels so much smoother, and with it being summer, I am not as hesitant to wear short sleeves or hide my legs. I will be purchasing this again. I love the grapeseed oil in it, and it is so gentle and firming. I love this product.
Diana sanders
(Feb 15, 2022 at 8:11 PM)
This scrub has been THE best scrub I've found for little stubborn bumps behind my legs! I've tried so many and have finally the one! Leaves my skin soft, not too oily, exfoliates perfectly, just perfect! I'm sold!
Darlene Smith
(Aug 15, 2022 at 8:53 AM)
This scrub leaves my face feeling smooth and refreshed. The combination of ingredients that includes lavender and Becker grape seeds is perfect and smells wonderful.
R Morris
(Jan 9, 2023 at 12:00 PM)
The Grape Seed Body Scrubber works great. It makes the skin feel silky and smooth. Wonderful spa treatment at home!