Lip Balm

---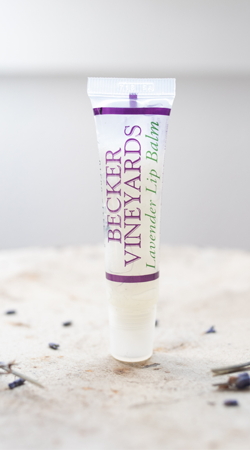 Enjoy the day and smooth lips with our special handmade lip balm. Made with Becker Vineyards Estate grape seed oil.
Product Reviews
Jennifer Crawford
(Jan 15, 2018 at 6:14 AM)
I am prett much just a chapstick and lipgloss girl but I have to say I Love this lip balm!! It's one of my new favs! I love the smell and how it adds shine but isn't sticky like some. Definitely a must have!!!
Brittney McPherson
(Apr 15, 2018 at 11:46 PM)
I'm absolutely in love with this lip balm!!! It makes my lips feel so soft and the smell is AMAZING. Will definitely be ordering more of this!!!
Stacy Sadler
(Apr 24, 2018 at 5:47 PM)
I am the queen of lip balm living in Colorado using it all the time, and this is one of the best!! Keeps my lips hydrated and smooth and is very healing as well!
Marissa Fisher
(Mar 1, 2019 at 2:13 PM)
This will forever be my go-to lip balm. Such an amazing product that actually works. The lavender smell is so fresh and pleasant. Not only does it look great over any lipstick or just by itself, but it also is not sticky and stays on for a while. 10 STARS!
Jennifer LeBlanc
(Mar 2, 2019 at 9:12 AM)
These Lavender Chapsticks are Amazing! I used to have chapped lips and was always looking for a good Chapstick that did not have a medicated smell. I tried this on a trip out to Fredricksburg, TX & fell in love with results & the smell too!! Good buy chapped lips, Thank you Becker Vineyards!!
Jennifer Luebbers
(Mar 17, 2019 at 8:30 AM)
I love lavender!! This lip balm is really a great product. It goes on smoothly and tastes great. I will definitely order more when I need more!!
Haley
(Jan 8, 2020 at 6:42 PM)
The texture is amazing, not sticky at all, very smooth. It feels so moisturizing on the lips and I love the lavender scent. It is very calming and not overbearing!
Makena Didyk
(Jan 9, 2020 at 9:15 PM)
I am OBSESSED with lip balms and this is my favorite by far! It's not sticky like most lip balms, it has an amazing smell, and it moisturizes your lips very well. I highly recommend it!
Karrie Hull
(Oct 17, 2020 at 4:42 PM)
I love this lip gloss! The only thing I would change is sometimes the side cracks as I'm getting to the end
Valerie Gorman
(Jun 19, 2022 at 8:01 PM)
I love this lip balm! It stays on for a long time, Smells and feels great and also heals chapped lips!!