Lotion

---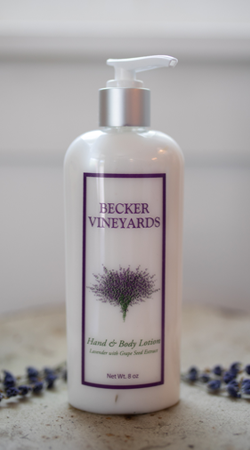 This lavender scented lotion absorbs into the skin quickly. It has a long lasting, healing, and moisturizing effect. Made with Becker Vineyards Estate grape seed oil. 8oz
Product Reviews
Christine Dawson
(Jan 4, 2018 at 10:46 AM)
My husband and I visited the Becker Vineyards tasting room about 2 years back, and then shopped the Lavender store onsite. My hands are always in need of moisture so when I tested this lotion I was instantly in love. Their formula is perfectly balanced for hands and a little goes a long, long way. It doesn't leave my hands feeling greasy either so I can handle objects right away without having any issues with gripping items that would normally slip out of my hands after using a heavier lotion. And of course, it smells heavenly and induces a more relaxed mentality during times of stress. I wish they made this available in larger sizes! Highly recommended!
Kelly Geisler
(Aug 28, 2019 at 9:23 AM)
This is the best lotion (hands down !!). I had to come out from California to find it in Texas! It works great for me. The non greasy feel and the aromatics are perfect.
Natalie Galindo
(Nov 21, 2019 at 9:20 AM)
It is so smooth but not greasy and the smell lasts so long. You HAVE to buy this!
DMHill
(Apr 18, 2020 at 9:13 AM)
My favorite lotion I have found. I use it every night on my hands before bed- it is very nourishing and helps me relax and fall asleep.
Samantha M
(Apr 29, 2020 at 9:05 PM)
My mom , sister and I visited in October . Took a tour and ended up buying this lotion for the first time. I'm usually not a lotion guru BUT I don't miss a night putting this on before bed. I'm almost out and I'm like oh no what will I do?? It smells amazing . The best lotion I've ever had.
KC
(Jun 23, 2020 at 9:17 PM)
I received this lotion as a birthday present and LOVE it. Love the smell and not greasy like some lotions. Ordering more for myself, maybe some extras for presents too.
Nico Vela
(Aug 27, 2020 at 6:37 AM)
Absolutely great lotion, I use it often, and my skin has never felt softer. Plus, the smell is absolutely fantastic.
David L Dunn
(Feb 14, 2021 at 9:42 AM)
I bought this as a gift for my wife. She loves it, especially the lavender scent.
Helen Whitcraft
(Mar 19, 2021 at 11:10 AM)
Wonderful product. Excellent service!
Vickie
(Nov 2, 2021 at 5:36 PM)
I have been purchasing this product for several years. The scent is wonderful and it makes your skin feel nice & smooth.
Debbie LP-Steiniger
(May 12, 2022 at 1:07 PM)
This lotion is wonderful! I suffer from dry skin and this lotion along with other lavender products has saved my hands and helped my family too! Many thanks!!!
Mary Ellen McIntire
(May 14, 2022 at 9:43 AM)
Great lotion...Makes my skin feel refreshed and soft. Hope this last me awhile til I am able to purchase more