Malmsey Muscat 2015

---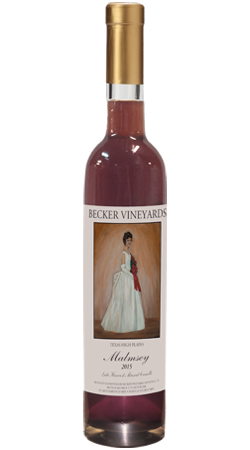 One of the fun wines to make – Muscat Canelli was harvested nearly 6 weeks later than their typical harvest date, allowing sugars to concentrate within the berry. After mildly crushing the grapes, we took an unusual step: We froze the grapes, and we kept them frozen for 3 months.
Normally reserved for red grapes, cryomaceration achieved three specific goals. First, the freezing and slow thawing allowed us to concentrate the natural sugars before fermentation. Secondly, the already intense perfume of the Muscat grape skin becomes intoxicating, heady wine aromatics. Third, using the method for a port or Madeira-styled wine adds an accentuated body to a wine that is unusually sweet, 10% residual sugar in this case.
After a long, cool fermentation, which completed with the natural sugars lending sweetness, the wine was aged in neutral barrels for over four years. The first two years saw the Texas sun and heat of summers, allowing those sugars to caramelize. The barrels were then kept at cellar temperature while aging to perfection. We think you'll agree.
Aromatics: Notes of stone fruit, mild citrus caramel and Texas Pecans
On the Palate: Full ripe apple, peach and apricot with notes of orange blossom and pecans with toasted notes of caramel.
Enjoy now, age as long as you can
Serve 55ºF
Wine Specs
Appellation
Texas High Plains
Harvest Date
September, 2015
Aging
4 years, neutral barrels in the Texas sun
Fermentation
Stainless Steel
Bottling Date
January, 2020
Wine Profile
Food Pairing Notes
Fruit and white chocolate desserts, aged soft cheeses, blue cheeses and dried meats
Product Reviews
Nico Vela
(Aug 27, 2020 at 6:42 AM)
One of the best wines I've had in a LONG time. The taste, while strong, was delightfully fruity. Even my grandmother, who doesn't like sweeter wines, loved this.
kaytee bailey
(Apr 1, 2021 at 9:45 AM)
Love this - John helped us in Fredericksburg at the tasting room and he was just excellent explaining how it was made, etc. My husband is a Port drinker and says this is one of the best he has ever had.
Cynthia Lambert
(Jun 30, 2022 at 8:43 AM)
I enjoyed all the wines they were all very distinctive in their own way. This was truly enjoyable afternoon . I would recommend it to all my friends.
EDGAR DELACRUZ
(Mar 23, 2023 at 7:08 AM)
My girlfriend and I tried this wine and we both loved it. So much that we bought a bottle to enjoy that evening. It reminded me of a madeira wine I tried in Napa Valley which I have delivered. It is sweet but not overpowering. It's perfect to enjoy as you relax.
Angel Watkins
(Apr 2, 2023 at 5:22 AM)
The entire experience of Becker Vineyards was like visiting Napa! Not being a wine connoisseur, this wine immediately peaked my interest with its sweet, mysterious taste. So good that even without shipping to Alabama, it was worth checking my bag on the plane to bring a bottle back home!🥰
Rhonda McDonald
(Sep 29, 2023 at 10:54 AM)
I first tried this wine last year on a visit for a friends birthday. I never had been a wine drinker before but this is definitely my favorite. I just wished it was sold where I live so I didn't have to order it but it's definitely worth it.