Primavera 2018

---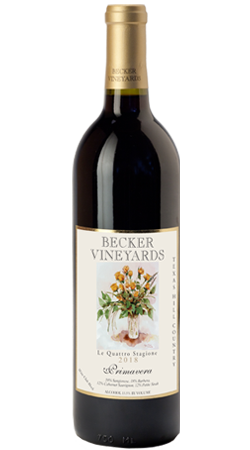 The Sangiovese grapes were planted by our very own Wine Club Vine Sponsors in 2015. After several years of hand pruning and watchful, caring eyes, the grapes are ready.
We started with a dedicated hand-harvest crew, lessons on Brix and grape ripeness, and even a few willing feet for crushing. Fermentation began in a stainless-steel tank, but finished in a mixture of new and neutral American oak barrels. Left alone for nearly two years, the wine has matured to a savory expression reminiscent of Italian Brunello. Pairing well with the Becker Estate Petite Sirah, Barbera from Drew Tallent and a bit of Cabernet Sauvignon from the Canada Family Vineyards, we hope you'll agree this delectable wine is a wine to be enjoyed with food.
It is light-to-medium bodied, with bright cherries and pomegranates to greet you. It opens as a rustic wine: earthy yet bright, soft yet expressive. The tannic structure is immediate, merely allowing the fruit to be the subtle highlight. You'll want to decant this wine but enjoy the aromas as it opens to fruition.
Aromatics: Rainier cherries, pomegranate, earthy olive notes, tea, rose petals
On the Palate: Tart cherries, black tea, lingering dried fruits, herbs and soft tannins on the finish
Enjoy now, Cellar 10+ years
Decant 30 mins before serving
Serve 60-65°F
Wine Specs
Appellation
Texas Hill Country
Harvest Date
August, 2018
Aging
22 months in oak barrels, 85% American oak, 40% of which was new oak
Residual Sugar
Dry 0.6 g/L
Wine Profile
Vineyard Notes
Becker Vineyards, Estate, Sangiovese and Petite Sirah, 70% (Stonewall, TX) ; Tallent Vineyards Barbera 18%, (Mason County, TX); Canada Family Vineyards, Cabernet Sauvignon, 12% (Plains, TX)
Production Notes
Limited production of only 400 cases
Food Pairing Notes
Rustic tomato dishes, savory and spicy, stuffed red peppers, grilled meats and vegetables, charcuterie of cured sausages and hard cheeses
Product Reviews
Devon Clifford
(Feb 10, 2022 at 10:12 AM)
I absolutely love this wine. It is so smooth. I will need to purchase more!
Mark S
(Mar 4, 2023 at 1:55 PM)
One of the best Becker has to offer. It'll be a sad day when this wine is no longer available.