Primavera 2022

---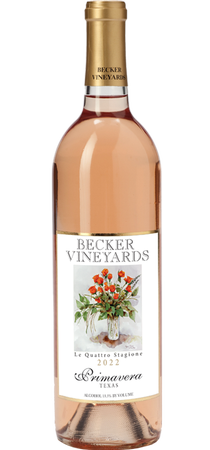 Primavera: Our Spring release in the Quattro Stagioni series
It's time to shake off the cold, open the windows and breathe the fresh air. A saigné blend of Merlot and Tempranillo provide delicate red fruits while Mourvèdre and Syrah lend subtle savoriness. Notes of sweet jasmine, hibiscus, candied cherries, and watermelon create the ideal pairing with Easter ham or that first sunny afternoon.
Aromas: white florals, hibiscus, new raspberries,
On the Palate: Light bodied with crisp, bright acidity, early strawberries, artificial cherries and light citrus notes, with a bright easy finish
Enjoy now
No decant necessary
Serve 52-58°F
Wine Specs
Harvest Date
August - September, 2022
Fermentation
Stainless Steel
Bottling Date
February 3, 2022
Residual Sugar
Dry, 0.3 g/L
Wine Profile
Vineyard Notes
Merlot 29% (Lahey, Reddy Diamante Doble and Six Harts Vineyards); Tempranillo 19% (Lahey, Farmhouse, Tokio Vineyards); Mourvedre 16% (Farmhouse Vineyards); Syrah 11% (Lahey Vineyards); Barbera 7% (Tallent Vineyards); Cinsault 5% (Farmhouse Vineyards); Petite Sirah 5% (Becker Estate Vineyards); Malbec 4% (Becker Estate Vineyards); Sangiovese 4% (Becker Estate Vineyards)
Production
610 case production
Product Reviews
Lisa Williams
(Feb 15, 2023 at 6:24 PM)
How is it possible that this wine is pink in color with that blend of grapes?
Kristin Tenery
(Apr 3, 2023 at 6:25 AM)
Perfect porch wine! Light and juicy. Very refreshing.