Ranger Hays 2018

---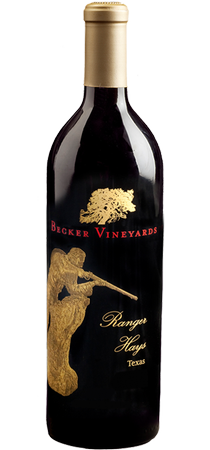 Ranger John C. "Jack" Hays first surveyed what is now known as Becker Vineyards in the mid-1800's. Later, he made his profession as a Texas Ranger, renowned for his efforts settling the Texas frontier. The artwork depicts his famous stand-off against a Comanche War Party, at nearby Enchanted Rock. Malbec, Mourvèdre and Petit Verdot create the dark fruit backbone, creating a wine as captivating as its inspiration.
Aromatics of fresh tobacco, dried dates, plums and caramel greet you. Grippy tannins, dark fruits and brewed tea open the palate, further revealing a mid-palate of dark plums, prunes, racy acidity which carries through the finish with red fruit compote notes.
Aromatics: Dark plums, all-spice, eucalyptus, dried dates
On the Palate: Dark ripe plums, stewed mixed red fruits, bright acidity, medium tannins,
Enjoy now, age for 5 years
Decant 30 minutes
Serve 58-68ºF
Wine Specs
Harvest Date
August - October, 2018
Aging
42 months in American oak barrels (66%) and French oak (34%) oak barrels
Fermentation
Primary fermentation in Stainless Steel tank; malolactic fermentation and aging in oak barrels
Bottling Date
March, 2022
Residual Sugar
Dry - 0.9 g/L
Wine Profile
Vineyard Notes
Tallent Vineyards 58% (Mason County, TX), Jet Wilmeth, Diamante Doble Vineyards 16% (Tokio, TX), Canada Family Vineyards 11% (Plains, TX), Farmhouse Vineyards 10% (Meadow, TX), Reddy Vineyards 5% (Brownfield, TX)
Production Notes
Malbec 50% (Tallent 23%, Diamante Doble 16%, Canada 11%); Mourvedre 20% (Tallent Vineyards); Petit Verdot 20% (Farmhouse Vineyards); Cabernet Franc 5% (Reddy Vineyards); Tannat 5% (Tallent Vineyards)
Food Pairing Notes
Rich beef dishes, roasted wild game, pork, veal, aged hard cheeses
Product Reviews
Wendell James Smith
(Mar 12, 2023 at 9:49 AM)
I received this bottle in my Wine Club shipment; it's excellent, I give it an A+.
Patricia Cavazos
(Oct 18, 2023 at 6:03 AM)
I enjoy the dryness of Ranger Hays. It definitely tastes better than any other Malbecs or other dryer reds I've had. Also love the story behind the label.
Douglas Marthaler
(Nov 23, 2023 at 3:30 AM)
Excellent wine---we had this at the winery. Quite possibly the best wine I've ever had.