Room Spray

---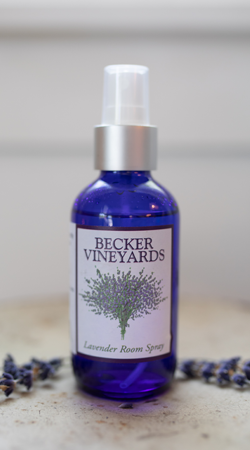 Want instant lavender fragrance in your home? Try using our lavender room spray. Spray on rugs, pillows, curtains, or anywhere in your home or office. Cobalt blue glass bottle with fine mist sprayer. 4oz
Product Reviews
Michael Burnias
(May 31, 2019 at 3:07 PM)
I bought this to spray on my pillow before bed time. It's a wonderful scent to relax to while getting to sleep.
Catherine Gac
(May 7, 2020 at 9:16 AM)
Love the room spray. I actually use it at night on my pillow to aid in sleep! I also use it in my closet and drawers. Fresh and clean smelling. Not overwhelming.
Tarah Smith
(Jun 6, 2020 at 8:38 AM)
Love the fresh smell, so much better than the fake lavender smells you find at other stores!
Nico Vela
(Aug 27, 2020 at 6:49 AM)
Excellent Smell! I have used this in my car, on my bedding, and in my closet for the smallest hint of freshness. Absolutely beautiful.
richard henderson
(Sep 20, 2020 at 10:32 PM)
Always a very potent and wonderful fragrance for the bathroom and any room.
Melissa Spence
(Jan 14, 2022 at 12:20 PM)
I use this for both of my boys at bedtime! It really helps them to relax at night.
ElizaBeth N Killingsworth
(Jan 21, 2022 at 9:38 AM)
Love this spray. I am honestly not a huge fan of Lavender in general but this spray is amazing. Me and my sons use it on our pillows at bedtime. Perfect relaxing smell for bedtime.