Shower Gel

---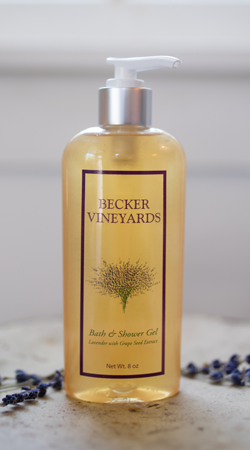 A lusurious foaming body wash. Made with essential lavender oil along with Becker Vineyads grape seed extract. A great way to enjoy the aroama of lavender with this hand and body wash. 8oz
Product Reviews
Mark Turner
(Jul 11, 2019 at 5:09 AM)
My wife and I discovered this soap during our last visit to Fredericksburg, and we love it. It smells great! It has a nice feel, and it only takes about a third of a pump to have enough to wash your hands. Did I mention that it smells great!! Great, natural lavender fragrance is great.
Betty Anne
(Feb 19, 2020 at 12:35 PM)
I bought this lavender bath and shower gel last summer when visiting Fredericksburg and looking for everything lavender. The fragrance makes for a wonderful shower and the gel leaves my skin feeling smooth and moisturized - not dry and tight. A real pleasure to use. So much so that I just bought two more bottles.
Dave
(Jun 30, 2020 at 5:09 AM)
Mark and Betty got this right, please let know when its back in stock again.