Therapy Cream

---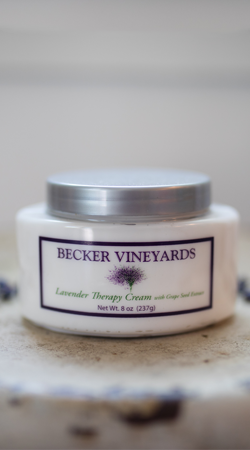 A wonderful thick cream made with shea butter, lavender essential oil, Becker Vineyards estate grape seed oil, and other natural botanicals to help nourish and hydrate dry skin. Use on hands, elbows, knees and heels. 8oz
Product Reviews
Cynthia McAnally
(May 11, 2018 at 7:42 PM)
I first bought this as a gift for my sister. She liked it so much that she then gave me a jar. We both think this is the best hand cream/body cream we have ever used, and we are both over 60. It goes on smoothly and leaves the skin feeling moisturized for hours or until it is washed off. Really soothing. A+++ rating for this cream. It really is therapy cream.
Martha I Haygood
(Aug 17, 2019 at 8:08 AM)
Love this product.
Denise Owen
(Feb 16, 2020 at 5:28 AM)
I use this cream every night on my hands and feet. It is very creamy and moisturizing . I love this product so much that I am buying extra jars for gifts.
Cathy Hill
(Jun 12, 2020 at 8:45 AM)
We have tried lots of lavender creams. This one is by far the best!
Rick Gohn
(Jul 12, 2020 at 9:25 AM)
My wife claims your Therapy Cream is one of the best she has ever used.
Peggy
(Jul 25, 2020 at 1:26 PM)
I've used this cream for years and love it.
Irma Roberts
(Aug 27, 2020 at 4:34 PM)
This lavender cream is amazing. It absorbs quickly, and it is very relaxing. My family and I love it.
Dena
(Sep 19, 2020 at 1:54 PM)
Very nice, not greasy. Perfect lavender scent!
Cathy Hill
(Oct 22, 2020 at 9:00 AM)
If I could rate this higher than a 5, I would. It is an excellent product!
Jeanne Martin
(Nov 18, 2020 at 8:59 AM)
This cream has been a staple and yet lavish luxury item for me for years to the point where I give 10 or so away to favorite friends every Christmas! Such an indulgence at such a reasonable price!
Linda Zama
(Mar 11, 2021 at 12:11 PM)
I LOVE this cream! The scent is just right, not overly strong, which is important if you have seasonal allergies! It disappears right into the skin and never feels greasy!
Gigi Greene
(Jun 23, 2021 at 10:17 AM)
This is the best cream ever!
Scott Cwynar
(Nov 22, 2021 at 11:27 AM)
Wife received this as a gift from her girlfriend some time ago and raved about it. I got it for her birthday and she was most overjoyed.
Debbie L P-Steiniger
(May 12, 2022 at 1:10 PM)
This is the best lavender therapy cream to use with spa socks for a luxurious spa at home treatment. This is a regular purchase that my family and friends love too! Thanks again Becker Farms for the lovely lavender treats.
Donna Carlton
(Mar 23, 2023 at 6:43 AM)
This product is rich & creamy. There is no greasy feel left after rubbing in. Nice scent! I just love it!
Leigh Ann Hicks
(Nov 28, 2023 at 5:54 AM)
I love this cream and recently ordered several to give as gifts. I keep a jar by my bed to use just before bedtime . The scent is not overwhelming and helps me sleep - plus my hands are benefiting!