Bunny Becker
8/27/1940 - 8/5/2019
---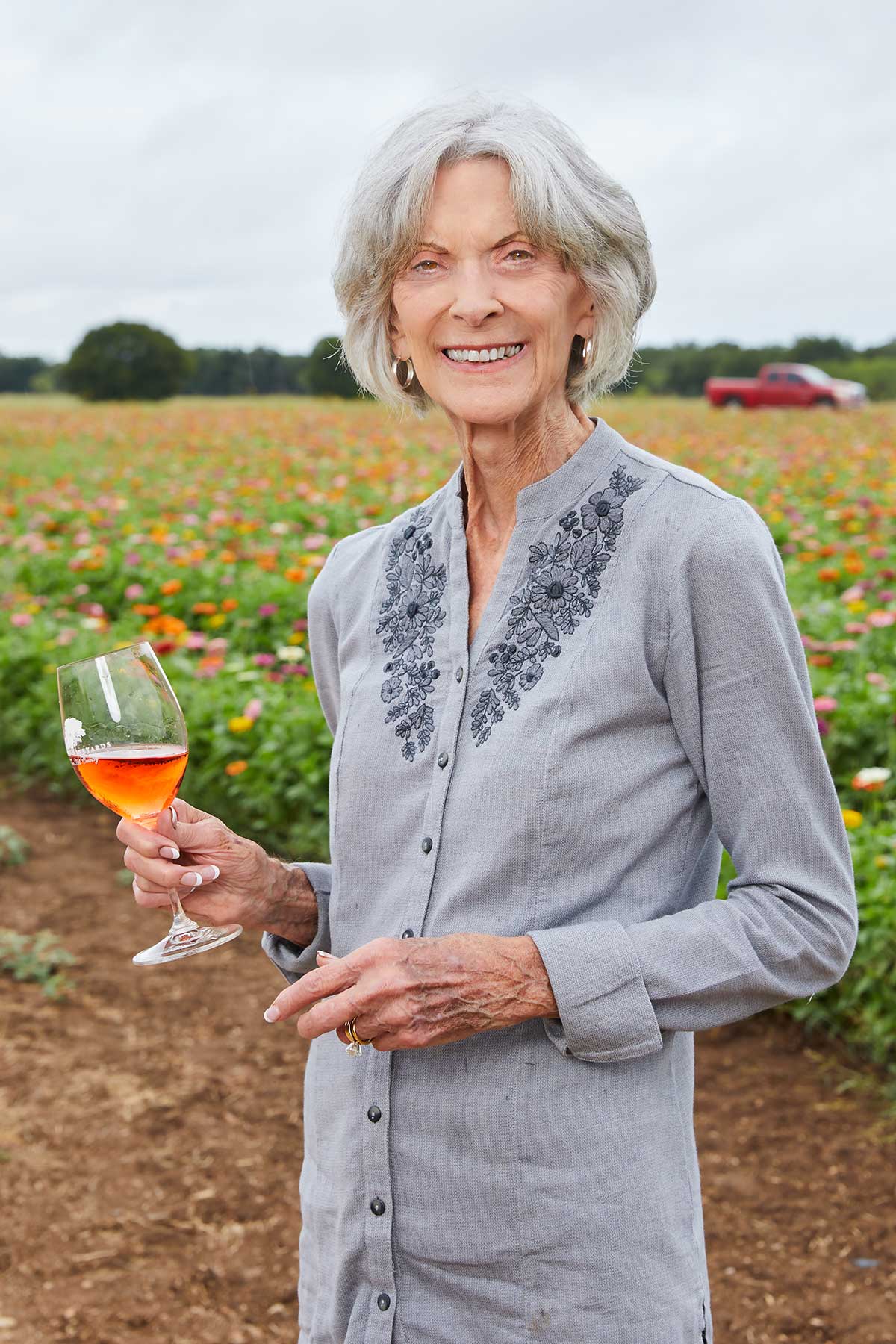 Mary Clementine Ellison "Bunny" Becker was born in Greenville, Mississippi, on August 27, 1940, to Dr. and Mrs. Eugene Ellison. Her childhood and high school years were spent in Texarkana, Texas. She attended the University of Texas at Austin, majoring in speech pathology. In her sophomore year, she was elected president of her sorority, Zeta Tau Alpha. In her senior year, she met Richard Becker on a blind date, matched on altitude, she was 6'0 and he 6'6 , and they were together thereafter based on attitude. She graduted Cum Laude in 1962, and taught for several years in Montgomery County, Colorado, where she also became an accomplished skier.
She married Dr. Richard Becker in 1964, and they had three children during his years of medical training, Clementine, Will, and Joe. Together, they founded Becker Vineyards in 1992, which has grown to premier status in the Texas Wine Industry. Their wines have been served to three US Presidents and served on ten occasions at James Beard Dinners in New York. She appeared twice on Wine Spectator covers. In 2000, she planted a three acre field of French lavender and began an annual Lavender Festival which continues each year in May. She was a wonderful French chef and was well known for her brilliant tables of food and wine. She was a member of the UT Chancellor's Executive Advisory Board, Les Dames d'Escoffier, The Argyle, Dominion Country Club, and Boot Ranch. She was preceded in death by her parents, Dr. Eugene Ellison and Margaret Ellison and her daughter, Mary Clementine Becker.
She is survived by her husband, Dr. Richard Becker, her sons and their families, Will and Emma Becker and their children, Henry, Sam and Maggie, and Drs. Joe and Emily Becker and their children, Nathan, Nolan and Nicholas. Most of all she loved her family, her children, grandchildren and her many friends and they loved her in return.
---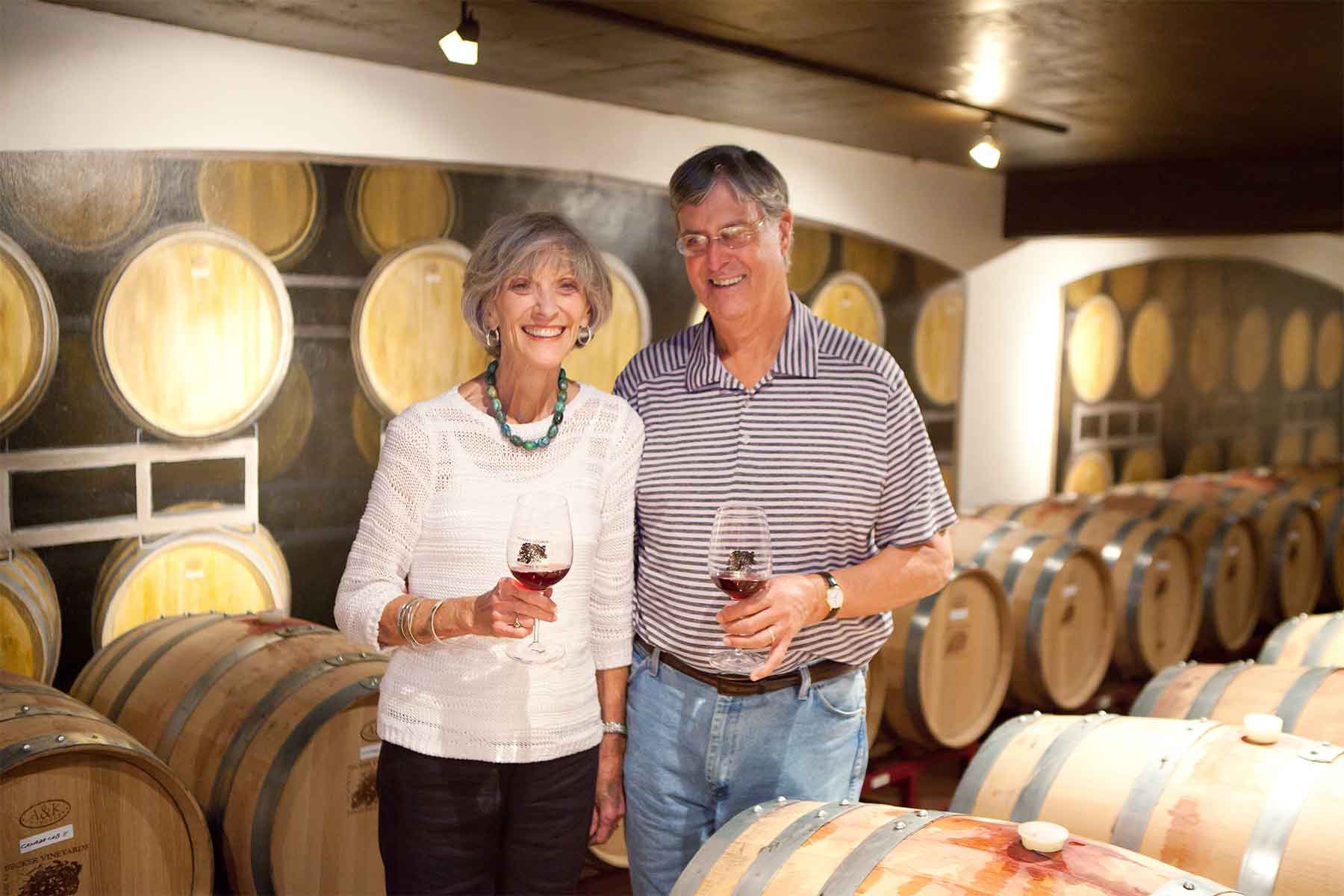 Dr. Becker and the Becker Family want to share a beautiful tribute to Bunny by Tanji Patton:
As we travel through this amazing journey of life, we never truly know the difference we may be making in the lives of others. I just received the heartbreaking news that Bunny Becker passed away today from cancer. I wanted you to know she made a difference in my life. You likely know Bunny because she and her husband, Dr. Richard Becker, founded Becker Vineyards near Fredericksburg, TX. I want to share some of my experiences with this delightful woman who was at different times a pioneer, a fighter and most of all a lovely soul.
Bunny was an optimist. Bunny and Richard were the first people Mike and I reached out to some 12 years ago when we were seeking advice on starting a wine business. We met for dinner, and I'll never forget how encouraging and supportive she was--they both were. Bunny was a giver… and gourmet cook. Once we launched Goodtaste.tv, Bunny and Richard invited us to their home for dinner – an over the top wine pairing extravaganza with the most delicious Shepherd's Pie I've EVER tasted. Every course was exquisite, and every dish was prepared by Bunny, the gourmet cook. Having someone as knowledgeable and influential in the wine world as the Beckers supporting our fledgling business was such a boost to our morale. Bunny shared stories with me about how hard it was to sell their wines when they first started. With her wonderful sense of humor, she described how she loaded her dolly with boxes of wine and carted them around from restaurant to restaurant asking owners to sell Becker wines. I've always remembered these tales, and they were such an inspiration as we were launching our business.
I've had the pleasure and honor of interviewing Bunny on several occasions over the years, most recently this past fall. I'll post the link here. My heart goes out to the entire Becker family. No doubt the angels are trumpeting the arrival of this beautiful lady.
---
Donations
In lieu of flowers, please donate to some of Bunny's most loved charities, Food Bank of San Antonio or Haven for Hope in San Antonio. The links below will take you to the donation sites. Thank you.