3 Bottle Gift Box - Premier Reds

---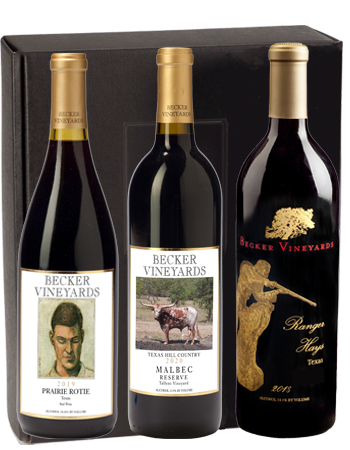 All Gift Box orders will be shipped out within 5 business days of order date,
unless customer specifies different request.
2019 Prairie Rotie

Pictured on this label, a young Richard Becker, traveling home from college one weekend, stopped to get a haircut. During the haircut, his lifelong friend Tony Bell sketched this depiction. This is one of many precious pieces of Tony Bell's artwork we are proud to label our wine. A tasty little wine, rediscent of Coté Rotie with brilliant red fruits backed up by a complex nose of white pepper, raspberries, tea, and potting soil. With its lively acidity, soft tannins, and lingering finish, this wine is an ideal pairing with Thanksgiving or a simple Tuesday night dinner.

2020 Malbec Reserve

A wine redolent of the nuances of youth, with a nose that presents of heady herbaceousness, creosote, and red berry jubilee. Upon tasting, you'll find earthy notes with a grippy palate, medium acidity in the medium-bodied wine, leaving it open to a multitude of food pairings. Red and purple plums, with slight hint of olive and cacao suggest turkey or pork dishes.

2018 Ranger Hays

Ranger John C. "Jack" Hays first surveyed what is now known as Becker Vineyards in the mid-1800's. Later, he made his profession as a Texas Ranger, renowned for his efforts settling the Texas frontier. The artwork depicts his famous stand-off against a Comanche War Party, at nearby Enchanted Rock. Malbec, Mourvèdre and Petit Verdot create the dark fruit backbone, creating a wine as captivating as its inspiration. Aromatics of fresh tobacco, dried dates, plums and caramel greet you. Grippy tannins, dark fruits and brewed tea open the palate, further revealing a mid-palate of dark plums, prunes, racy acidity which carries through the finish with red fruit compote notes.
Product Reviews