Autunno 2014
Le Quattro Stagione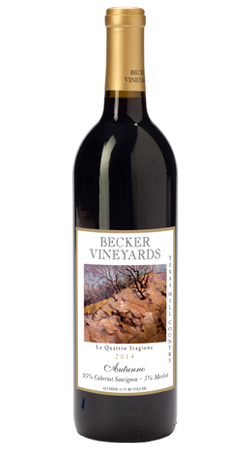 The first of our 2014 Le Quattro Stagione "Four Seasons" series, The Autunno, is a blend of 95% Cabernet Sauvignon and 5% Merlot. A truly balanced wine, displaying fruit forward notes, complex maturity, finishing in soft, yet rich tannins.
Wine Specs
Harvest Date
September, 2014
Aging
Aged in a blend of French and American oak barrels for two years
Bottling Date
November, 2016
Wine Profile
Tasting Notes
Aromatics: Tobacco, cedar, roasted coffee, rose and violets On the Palate: Full red fruits, warm, soft tannins, coffee and dark chocolates
Awards
2017 San Francisco Int'l Wine Competition - Gold Medal
Food Pairing Notes
Beef, wild game and rich sauces
Product Reviews
https://essaysthatwins.com/
(Nov 24, 2017 at 1:44 AM)
I had tried several wines before and any I had tasted had been sweet and sweet. This wine is none of that - recent & zesty with a beautiful acidity....I know what i will be drinking countless this summer!!
Jordan Grace
(Jun 27, 2018 at 10:30 AM)
My wife visited the winery and brought this wine back for me. It was delicious, it was light enough to drink casually and with food while also having a very robust and full flavor. I just wish I could find it here in New Orleans!