Becker Living Christmas 2023

---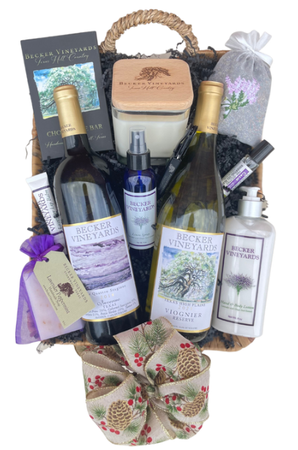 *FREE SHIPPING FOR GIFT BASKETS!*
2021 Viognier Reserve
The flagship wine of Becker Vineyards sourced from the Texas High Plains embodies the characteristics of a red wine drinkers white wine! Aromas of honeysuckle, white stone fruits, and hints of vanilla following on the front palate is ripe stone fruit, and honeysuckle, layered with a mid-palate of lemon zest and a touch of the warm vanilla. The body is a crisp, yet bold full-bodied white wine after one year aging in 100% French oak barrels.
2018 Inverno
Inverno, the Winter release of our Quattro Stagione wine series showcases our winemaker's creativity conceiving a fusion of Texas Hill Country and Texas High Plains wines; when Italian meets Bordeaux. Earthy Cabernet Franc and Cabernet Sauvignon balancing a brighter Barbera and dark Petit Verdot meld together, yielding violets and bramble fruit on the nose. As the wine opens, you'll find notes of roses followed by flavors of candied violets. Dark cherries complementing tart Bing cherries, carry through the palate with ripe dates and a satisfying tannic structure. Aging for nearly three years in predominately neutral American oak barrels allows the complexity of the wine to shine, ready for the next sip.
Awards: 2022 San Francisco International Wine Competition
Silver Medal
2022 San Antonio LSR Wine Competition
Gold Medal
Corkscrew: Open your favorite bottle of wine with elegance and ease using our engraved double-hinged corkscrew.
Lavender Lip Balm: Treat your lips to the essence of lavender with our exquisite lavender lip balm. Perfect for on-the-go.
Lavender Hand and Body Lotion: Indulge your skin with the gentle caress of lavender-infused hand and body lotion. This velvety formula hydrates and softens, leaving your skin delicately scented and irresistibly smooth.
Dark Chocolate Bar: Savor the decadence of our premium dark chocolate bar. Crafted from the finest cocoa beans, this chocolate indulgence delights the taste buds with its rich, bittersweet flavor profile.
Handcrafted Lavender Soap: A beautifully crafted lavender-scented soap made from natural ingredients. Lavender-infused soap provides a gentle and aromatic cleansing experience.
Roll-On Essential Oils: Immerse your senses in the calming aroma of lavender with our roll-on essential oils, perfect for on-the-go relaxation.
Lavender Sachet: Tuck our lavender sachet into your drawers or closet, infusing your space with a soothing fragrance.
Lavender Linen Spray: Perfect for spritzing on pillows, linens, or even in the air to create a soothing ambiance in any room. The calming scent of lavender promotes relaxation and restful sleep.
Lavender & Sage Candle: Light the way to relaxation with our lavender and sage candle. Its gentle glow and fragrant aura create an atmosphere of serenity, transforming any room.
All Gift Basket orders will be shipped out within 5 business days of order date,
unless customer specifies different request.
Product Reviews