Cabernet Sauvignon Reserve Canada Family 2017

---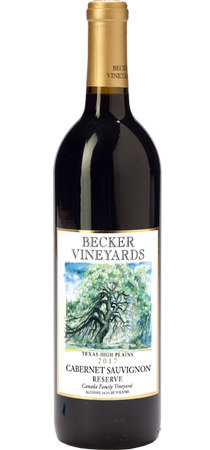 Canada Family Vineyard produces some of the most robust varietal Cabernet Sauvignon in Texas. Located just outside the town of Plains, TX, about 6 miles from the New Mexico border, the vineyard sits upon a large limestone shelf, giving the wine its characteristic minerality and subtle herbal notes.
The 2017 harvest is proving to be one of the best vintages in Texas this decade. September of that year experienced a long, high pressure system in the High Plains, permitting a long, slow cool fall that allowed the grapes to ripen evenly, a little slower than normal, while retaining natural acidity.
The nose of ripe red fruit, earth, herbal spice, dark coffee and leather comes across as soon as the wine hits the glass, quickly developing the signature deep cacao and upfront red fruit that Cabernet Sauvignon is known to display. Following is a well developed palate of plum and cherry, as well as hints of allspice. Mid-palate is full, with well structured tannins and rich notes of dark fruit and earth. Finishing with lingering ripe fruit and spice notes – a classic example for Cabernet. A great case proving that Texas can and does produce world class Cabernet Sauvignon.
Aromatics: Plum, red fruit, coffee and sweet brown spices
On the Palate: Red fruit, minerality and brown spice with well integrated tannins, finishing with lingering coffee and herbal notes
Enjoy now, age 10+ years.
Decant 30 minutes prior to serving
Serve 60-68ºF
Wine Specs
Varietal
Cabernet Sauvignon
Appellation
Texas High Plains
Vineyard Designation
Canada Family Vineyards
Harvest Date
September, 2017
Aging
22 months French and American Oak
Fermentation
Stainless Steel and oak barrels
Bottling Date
August, 2019
Residual Sugar
Dry, 0.6 g/L
Wine Profile
Awards
2021 HLSR Int'l Wine Competition - DOUBLE Gold / Reserve Class Champion / Texas Class Champion, 2021 San Francisco Chronicle Wine Competition - Silver Medal, 2019 San Francisco Int'l Wine Competition - Silver Medal, 2020 San Francisco Chronicle Wine Competition - Silver Medal
Vineyard Notes
Canada Family Vineyards, Plains, TX (95%) Jet Wilmeth, Diamante Doble Vineyards, Merlot, Tokio, TX (5%)
Food Pairing Notes
Rich grilled meats, peppery sauces, aged cheddar cheese
Product Reviews
LA Victoria Ranch
(Jan 4, 2020 at 2:59 AM)
Smooth and tasty!
Christopher Peña
(Feb 28, 2020 at 12:24 PM)
I've always been a fan of the Canada Family Cabs. This one is fantastic, and definitely stands out. It has a robust nose, hints of oak, vanilla, and serious red fruit. The flavor in the palate is intense, with a lasting finish that you wish would not ever stop. The red fruit, deep cherry cocoa, and slight oak are intense, not overpowering, and has a unique earthiness that rounds out the flavor. This cabernet sauvignon has grippy tannins that are complimented by the right amount of acidity. When you open this bottle, you'll be sad when it finished. I'll grab a few more to hold on my next visit.
Amber Rutledge
(May 2, 2020 at 9:21 AM)
This wine is absolutely amazing! Hands down best Cab I've had! Beats out a lot of name brand $90-100 bottle wine!
Whittni Mitchell-Lloyd
(Jun 6, 2020 at 1:14 PM)
First time ordering wine online and picking up at the vineyard. Wish I could have taken a full tour, but obviously understandable due to the current conditions. Maybe next year. Previously I have purchased at the Main Street Location. Two years ago was my first time in Fredericksburg. Walking up and down Main Street, going in many of the businesses, for some reason, your storefront seemed extra enticing. Upon entering, I was greeted and asked if I needed help. I did a tasting of a few red wines, and upon tasting the Cabernet Sauvignon, decided I liked it the best. I walked away that year with a few bottles. The next summer I was in town, I walked away with 3 bottles and a wine club membership, and ordered more around January. This year I decided to go all out and get 12 bottles. Maybe that will last me until next summer. Anyway, even though I an a fairly young and new wine drinker, I just want to say thank you to everyone at Becker.
Heather stark
(Nov 1, 2021 at 3:11 PM)
Never drank wine before but this one was pretty good
Scott Allred
(Nov 2, 2021 at 4:19 PM)
One of the very best Cabs I have had the pleasure to taste. First the nose is so outstanding. I almost forgot I was supposed to drink it. It is extremely satisfying to the palate. This will be one of my most favorite wines.
Donald Watson
(Feb 26, 2022 at 10:00 AM)
My good friend and I picked this one as our favorite while visiting the winery for a wine tasting in Stonewall, TX. I have enjoyed it more while drinking it at home and am sad that it is nearing the bottom of the bottle.
Zanada Schoppert
(May 22, 2022 at 11:12 AM)
My husband and I have enjoyed the Canada Family Cabs for several years and this one is or favorite so far! We have shared this with lots of friends and they have all loved it!
Tony L Angelle
(Nov 5, 2022 at 9:04 AM)
Great wine at a great price. Enjoyed it with our friends on our first of hopefully many visits.
Michelle Beaty
(Mar 9, 2023 at 6:56 AM)
We were there last weekend, As we had sampled some of the wines, we had chosen a different red. We had one ticket left. One of your wine sommelier talked about the Cabernet from the Canada family. We purchased a bottle and then we went outside to enjoy the beautiful weather and the beautiful atmosphere outside. We will definitely add the Becker Vineyard to our list of places to visit next time.
Shanon Stark
(Apr 25, 2023 at 5:35 AM)
Now this is the bees knees! Delicious! Bold! Smooth! This cab could hold up against California cabs in our humble opinion. Job well done!