Culinaria 2016

---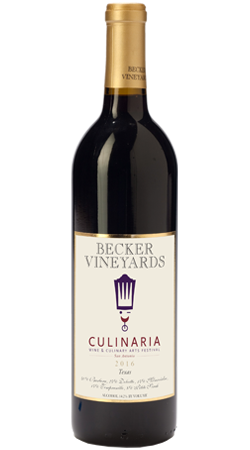 2016 Culinaria is one of the most seductive, alluring food friendly wines yet. From the bright red fruit on the nose to the full mouthfeel, this lush, pliant wine caresses your senses with unabashed forwardness.
A celebration of the Culinaria Wine and Food Festival, is a wine that changes each vintage, always with food pairing in mind. This particular vintages boasts Barbera, Dolcetto, Mourvedre, Tempranillo and Petite Sirah from the great vineyards of the Texas Hill Country and Texas High Plains AVAs.
Aromatics: Bright red raspberries, dried cherries, herbal essences, layers of dark, toasted notes, rich chocolate, fresh coffee.
On the Palate: Fruit forward with notes of bright red raspberries, dried cherries, cassis, cranberry balanced with under notes of fresh herbs, with a lingering finish of chocolate and warm, brown spices.
Wine Specs
Harvest Date
August - September, 2016
Aging
18 months French and American oak barrels, both new and neutral
Fermentation
French and American Oak barrels
Bottling Date
March, 2018
Residual Sugar
Off Dry, 1.4 g/L
Wine Profile
Vineyard Notes
Tallent Vineyards and Becker Estate Vineyards of the Texas Hill Country; Jet Wilmeth Doble Diamante Vineyards, Farmhouse Vineyards, Reddy Vineyards and Sprayberry Vineyards of the Texas High Plains.
Production Notes
Always a limited production, in celebration of the Culinaria Food and Wine Festival, San Antonio, TX
Food Pairing Notes
TexMex, Grilled meats, Texas Bar-B-Que, Sharp Cheddar and Smoked cheeses
Production
UPC 644412000229
Product Reviews
Katherine Powell
(Apr 29, 2018 at 3:23 PM)
Absolutely perfect blend of crisp and buttery, dry but warm I have long enjoyed Becker reds, but this is the best I've had. Cannot wait to be able to purchase a bottle again.
Dr. Douglas Marvin
(Jun 20, 2018 at 9:21 AM)
I am an absolute fan of Culinaria. Each year I anticipate its release. The 2014 was absolutely the best wine to come out of Becker's. The 2015 I would also give a 5 star. The 2016 just isn't as good as the last two years. With that said, pretty good bottle for the money. I usually buy a case each year but haven't decided if I will this year. The venue at Becker's is top notch and I enjoyed this bottle there for father's day.
Irene Powell
(Jun 23, 2018 at 3:32 PM)
I very much enjoyed our 1st visit to Becker and Coulette ( I hope I spelled that right ) that did the tastings was so helpful and had some suggestions after questioning me for samples I would not have tried otherwise, and she was right on ! I am just starting to appreciate reds and the Culinaria is a wonderful venture for me. Can't wait for our next visit.
Amber Calderon
(Jun 28, 2018 at 8:03 AM)
Becker provided the most welcoming and gorgeous atmosphere, and opened my tastebuds to some fantastic wine. Everything was absolutely incredible!! The culinaria is one of my favorites because it's complex, bold, but still so drinkable and easy. It's a breath of fresh air.
Diane Jordan
(Jan 15, 2019 at 5:47 PM)
The Culinaria is a smooth, fruity blend. This is wonderful red wine, crisp but smooth. I agree with another comment that it is "so drinkable and easy!" It is my favorite and I anticipate re-ordering again!