Culinaria 2017

---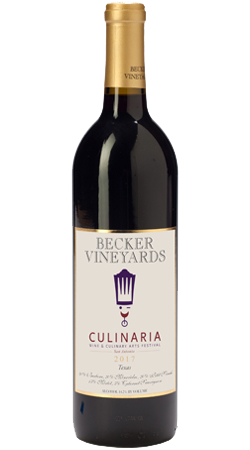 Culinaria is one of the most seductive, alluring food friendly wines yet. From the bright red fruit on the nose to the full mouthfeel, this lush, pliant wine caresses your senses with unabashed forwardness.
The celebration of the Culinaria Wine and Food Festival, is a wine that changes each vintage, always with food pairing in mind. This particular vintage boasts Barbera, Mourvedre, Petite Sirah, Merlot and Cabernet Sauvignon from the great vineyards of the Texas Hill Country and Texas High Plains AVAs.
Aromatics: Bright red raspberries, dried cherries, herbal essences, layers of dark toasted notes, rich chocolate, fresh coffee.
On the Palate: Fruit forward with notes of bright red raspberries, dried cherries, cassis and cranberry balanced with under notes of fresh herbs. Lingering finish of chocolate and warm brown spices.
Serve at 60-65ºF
Decant 20-30 miutes
Enjoy now or age 5-7 years
Wine Specs
Harvest Date
August - October, 2017
Aging
18 months French and American oak barrels, both new and neutral
Fermentation
Stainless Steel and oak barrels
Bottling Date
April, 2019
Residual Sugar
Dry - 0.7 g/L
Wine Profile
Vineyard Notes
Tallent Vineyards (Mason County, TX), Becker Vineyards, Peter's Prairie Vineyard (Mason County, TX), Jet Wilmeth, Diamante Doble Vineyards (Tokio, TX), Reddy Vineyards (Brownfield, TX), Canada Family Vineyards (Plains, TX)
Production Notes
Limited Production
Food Pairing Notes
TexMex cuisine, grilled meats, BBQ, aged cheeses
Product Reviews
Karmen Blackstock
(May 24, 2019 at 8:24 AM)
A beautiful wine that never disappoints!
Diane Becker
(Oct 15, 2019 at 9:01 AM)
As a family, we like to taste wines without knowing what the brand is and everyone rates it at the exact same time. This wine was rated a 4.5-5 by all participants. We have shared this one with numerous friends and they have also had the same reaction . They have also told us they have shared with their friends and had the same response given to them. Excellent wine.
Bruce Hays
(Nov 3, 2019 at 1:26 PM)
Love this wine! A strong body with a smooth finish. I could drink this wine with meat, pork or lamb. It can stand up to any French Bordeaux in my book!
Ann Brown
(Nov 5, 2019 at 4:48 PM)
A wonderful wine!
Karen Franks
(Jan 2, 2020 at 6:01 PM)
My favorite!
Sheena Wall
(Mar 14, 2020 at 9:05 PM)
The Culinaria is always a crowd favorite. It's a delightful wine that pairs well with many foods, but is so smooth that it's great for sipping too. So versatile and truly delightful. Never buy just one bottle!
Gary Wylie
(May 9, 2020 at 3:20 AM)
I first tasted this wine at your downtown Fredericksburg place in May 2019 and loved it then. I have since bought three cases (I forget in more) since and the wine is always shipped in a day or two, never damaged, and always delicious. I love it.
Dana Sparks
(May 11, 2020 at 9:09 AM)
I really enjoyed this wine. As noted, it is great with all kinds of food. I particularly enjoyed it with steak and roasted veggies, but also great with lasagna.
Martha Jane Lovedahl
(May 17, 2020 at 2:33 PM)
This Culinaria was the perfect Mother's Day surprise!
Kate
(Jun 16, 2020 at 2:15 PM)
We LOVE this wine! If you've ever asked yourself, "What wine should we have with dinner tonight?", this wine is so often the answer. It is easily one of our favorite Texas reds. Strong flavor, but still smooth. If you are reading this, you should definitely get a bottle ( or three) to try it.