Culinaria 2018

---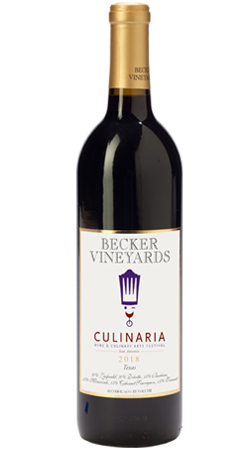 Culinaria is one of the most seductive, alluring food friendly wines yet. From the bright red fruit on the nose to the full mouthfeel, this lush, pliant wine caresses your senses with unabashed forwardness.
The celebration of the Culinaria Wine and Food Festival is a wine that changes each vintage, always with food pairing in mind. This particular vintage boasts SIX different varietals from the great vineyards of the Texas Hill Country and Texas High Plains AVAs, including Zinfandel, Dolcetto, Barbera, Mourvedre, Cabernet Sauvignon, and Tannat.
Aromatics: Bright red raspberries, dried cherries, herbal essences, layers of dark toasted notes, rich chocolate, fresh coffee.
On the Palate: Fruit forward with notes of bright red raspberries, dried cherries, cassis and cranberry balanced with undertones of fresh herbs; a lingering finish of chocolate and warm brown spices.
Enjoy now or age 5-7 years
Decant 20-30 minutes
Serve at 60-65ºF
Wine Specs
Harvest Date
August - October, 2018
Aging
18 months French and American oak barrels, both new and neutral
Fermentation
Stainless Steel and oak barrels
Residual Sugar
Off Dry - 5.0 g/L
Wine Profile
Vineyard Notes
Wilmeth Diamante Doble Vineyards, Zinfandel and Dolcetto (Tokio, TX) 40%; Tallent Vineyards, Barbera and Tannat (Mason County, TX) 30%; Farmhouse Vineyards, Whitehouse Mourvedre (Meadow, TX) 15%; Canada Family Vineyards, Cabernet Sauvignon (Plains, TX) 15%
Production Notes
Limited Production
Food Pairing Notes
TexMex cuisine, grilled meats, BBQ, aged cheeses
Product Reviews
Gary Wylie
(Jul 17, 2020 at 9:42 AM)
I know I can't drink all of the Culinaria you make, but I'd like to. This wine is so great it cannot age in my wine cabinet. It has no chance. I have bought two cases for my son, and many for me. Each year the quality and consistency is the same if not better. With a great review I know I risk Becker raising the price of this wine, but that is the risk I choose to take. Congrats on a fabulous wine!
Fernando Cisneros
(Jul 22, 2020 at 9:04 AM)
Very good once you let it breath for an hour.
Jenna
(Jul 24, 2020 at 9:21 AM)
Culinaria is an excellent wine!
Tyler kane
(Aug 26, 2020 at 8:10 AM)
Absolutely top notch and delicious! I ended up drinking the whole bottle...oops haha
Ken Brack
(Sep 6, 2020 at 9:15 AM)
What a terrific wine! Very smooth on the pallet with a wonderful taste and aroma. Even my wife loves it and she is strictly a Pinot Grigio wine drinker!
Lawrence Mabe
(Oct 17, 2020 at 9:13 AM)
I don't consider myself a wine connoisseur, but I know what I like. After I did a wine tasting and pairing at Becker vineyards, where CULINARIA 2018 was included, I later asked for a glass to enjoy. I do that to see how it sets on the palate while enjoying it without food. I often sit and enjoy a glass while reading or watching TV. Some wines pair well with food, but will grate on the palate about halfway through a glass. This wine is wonderful, no mater how you drink it. It has a tremendous complex character and wonderful taste without being harsh. I would recommend it.
Kathy Houseton
(Dec 31, 2020 at 8:49 AM)
Absolutely a WONDERFUL wine - very smooth & delightful. Excellent price point as well. Enjoyed it so much that I purchased it for my daughter & son-in-law to ring in 2021. Definitely a keeper & one I'll continue to enjoy. Love your wines Becker Vineyards! Cheers!!