Dolcetto Reserve 2018

---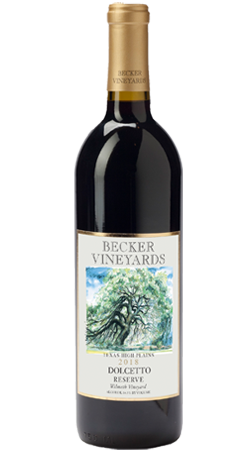 Dolcetto, "little sweet one", presents as a medium-bodied, highly aromatic, lush wine. Originally grown in the rolling hills of Piedmont, it now hails from sandy red soil characteristic of the Texas High Plains and Jet Wilmeth's Diamante Doble Vineyards, (Tokio TX).
Dolcetto's preference for extra warmth and sunshine make it yet another great grape for the Texas High Plains. Once it reaches the Becker crush pad, great care is taken to ensure the fruit-driven flavors prevail. Aging in a blend of French and American oak barrel, more neutral than new, allow fruit and tannins to meld. Upon opening, we're greeted with stewed red fruits, a bright acidity and savory, spicy aromas urging you to pair with charcuterie, later opening to reveal bright fruits, black tea, and light hay.
We're quite enamored of this "little one". We think this presents a lovely wine, perfect for pairing with your everyday dinner or any special occasion.
Aromatics: Dark cherries, black tea, deep violets, savory spicy notes
On the Palate: Zippy acidity, black cherries, stewed dark berries, freshly brewed tea, with lingering blueberries and medium tannins on the finish
Enjoy now, Cellar 5-7 years
Decant before serving
Serve 60-68°F
Wine Specs
Appellation
Texas High Plains
Vineyard Designation
Wilmeth Vineyard
Harvest Date
August, 2018
Aging
70% new American Oak, 15% new French Oak
Fermentation
New and neutral, French and American oak barrels
Residual Sugar
Dry - 2.5 g/L
Wine Profile
Awards
2021 San Francisco Chronicle Wine Competition - Gold Medal, 2021 HLSR Int'l Wine Competition - Silver Medal / Texas Class Champion
Vineyard Notes
Wilmeth Diamante Doble Vineyards, Dolcetto (Tokio, TX) 95%; Becker Vineyards Estate Petite Sirah (Stonewall, TX) 2.5%; Farmhouse Vineyards, Whitehouse, Mourvedre (Meadow, TX) 2.5%
Food Pairing Notes
Cured pork, sausages, salami, pizza, roasted tomato dishes, eggplant Parmesan, roasted garlic
Product Reviews
Rudy Cavazos
(Mar 23, 2021 at 4:38 PM)
I love the written description and I'm glad to see so much technical information. It is an incredibly balanced wine! It takes all the best attributes of the oak in both fermentation and aging where it's combined in a way that allows for all the aspects to shine. There is a very slight nuttiness mid-taste. I had mildly spicy venison sausage with it which paired really well. The pucker-y feel makes me think it was either partially or completely dry farmed (adding the slight mineral-y), an attribute I really enjoy.
This is definitely one of my favorites, I love it!
Marc Becker
(Jul 15, 2021 at 10:42 AM)
I don't drink wine, but am going to give gifts of your wine because it has such a great name. Signed, Marc Becker 🤣🤣🤣
Dave Anderson
(Aug 18, 2022 at 6:17 AM)
We sampled this wine at your tasting room, and we found it to be a well-balanced, smooth red wine that pairs well with a variety of foods. We bought two bottles and served them with our favorite pizza. The combination was delicious. This is one of our go-to wines right now.