Double Gold Wooden Box

---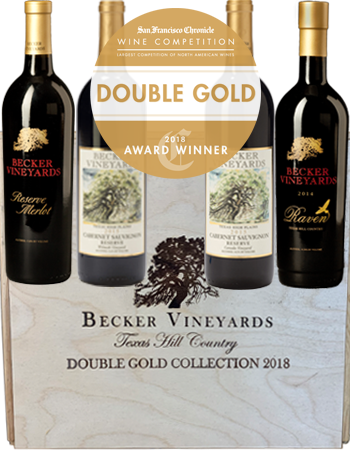 All Gift Box orders will be shipped out within 5 business days of order date,
unless customer specifies different request.
2015 Canada Family Vineyards Cabernet Sauvignon Reserve

The Canada Family Vineyard sitting just outside of Plains, TX is the farthest West Texas vineyard. The large limestone shelf, rocky granitic soil that gives the wine its characteristic mineral notes, distinguishing it from all other Texas Cabernet Sauvignon. The 2015 harvest produced near perfect bloom and cluster development with small berries resulting in concentrated flavors and color.

2015 Wilmeth Family Cabernet Sauvignon Reserve

This Cabernet Sauvignon comes from Diamante Doble Vineyards in Tokio, TX. Our growers, Jet and Gay Wilmeth, have an attention to detail and harvest practices that make for great development in flavor and long term structure of the wine.

2014 Raven

The small, inky berries of the Petit Verdot provide the intensely rich color and depth while the Malbec lends bright acidity and fruit forwardness. The strong tannic structure will allow this wine to age for some time as the spiced notes and fruit mature. We strongly urge you to buy multiple bottles, drink now and lay the others down for up to 10 years. We recommend a minimum of an hour decanting.

2016 Merlot Reserve

A beautifully layered wine, rich with red fruits, cocoa and soft, silky tannins, dinner's perfect companion. Sourced from the High Plains of Texas, the 2022 Reserve Merlot showcases our warm climate growing conditions, allowing the fruit to shine, while the tannic structure plays the part of the quiet backbone. Oak aging in a mixture of equal parts French and American oak barrels for nearly a year and a half allows savory spices to blend with the warm blackberry and plum, with mid-palate of cacao and lingering tobacco finish.
Product Reviews