Fleur Sauvage 2016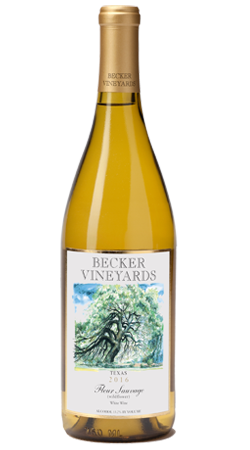 Fleur Sauvage, or "The Wild Flower" is a unique blend of Texas white grapes. This vintage, the grapes include Roussanne, Chardonnay and Viognier. Styled in the New World style of winemaking, favoring fruit and floral components of each varietal, it is a perfect glass of crisp wine for warm days and hot nights.
Aromatics: Gardenia, orange blossom and hints of rose
On the Palate: Crisp, ripe melons and apricots, finishing fresh and smooth.
Wine Specs
Harvest Date
August - September, 2016
Aging
New and neutral French Oak barrels
Fermentation
Stainless Steel
Bottling Date
August, 2018
Residual Sugar
Semi-Sweet 40 g/L
Wine Profile
Vineyard Notes
Farmhouse Vineyards and Bingham Family Vineyards (Meadow, TX)
Food Pairing Notes
Perfect for any spicy dish, seafood, chicken, fruit pies and soft cheeses
Product Reviews
Barry Ely
(Jan 31, 2019 at 9:20 AM)
Very nice !!!!!
Lanissa Haltom
(Oct 10, 2019 at 10:15 AM)
Wonderful! Not too floral or too sweet. Very easy to sip, on hot Texas nights.
Sharon Oster
(Dec 17, 2019 at 8:15 AM)
This is our second order of this fruit and floral delight. I am not usually a lover of white wine, but this wine is perfect for the palate. Not too dry or too sweet. Good as a single glass while sitting on the back porch or pairing with salmon my husband grilled.
Patti Harriman
(Jan 25, 2020 at 12:02 PM)
As a fan of Becker's wines, I was delighted to sample this wonderful wine. Experiencing the initial aromatics and color raised my expectations that this would be good. I was wrong. It was GREAT! It's crisp, semi-sweet and bright. I enjoy it with poultry, fish and red meat. I love it as wine to serve my friends or to sip with my feet propped up. Although it's floral and fruity, it's still my go to in Fall and Winter.
Adriana Yocys
(Mar 22, 2020 at 10:18 AM)
Fresh ans special taste I like