Gift Box - Red and White Wine 2023

---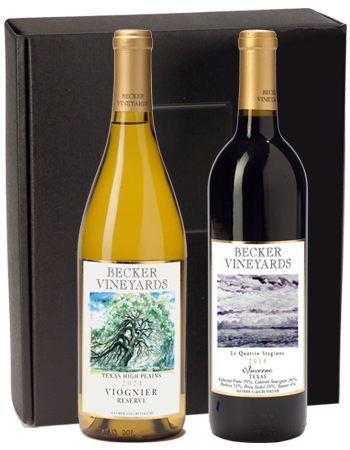 All Gift Box orders will be shipped out within 5 business days of order date,
unless customer specifies different request.
2021 Viognier Reserve

The flagship wine of Becker Vineyards sourced from the Texas High Plains embodies the characteristics of a red wine drinkers white wine! Aromas of honeysuckle, white stone fruits, and hints of vanilla following on the front palate is ripe stone fruit, and honeysuckle, layered with a mid-palate of lemon zest and a touch of the warm vanilla. The body is a crisp, yet bold full-bodied white wine after one year aging in 100% French oak barrels.

2018 Inverno

Inverno, the Winter release of our Quattro Stagione wine series showcases our winemaker's creativity conceiving a fusion of Texas Hill Country and Texas High Plains wines; when Italian meets Bordeaux.

Earthy Cabernet Franc and Cabernet Sauvignon balancing a brighter Barbera and dark Petit Verdot meld together, yielding violets and bramble fruit on the nose. As the wine opens, you'll find notes of roses followed by flavors of candied violets. Dark cherries complementing tart Bing cherries, carry through the palate with ripe dates and a satisfying tannic structure. Aging for nearly three years in predominately neutral American oak barrels allows the complexity of the wine to shine, ready for the next sip.
Product Reviews