Gift Box 2021 - Red & White Wine

---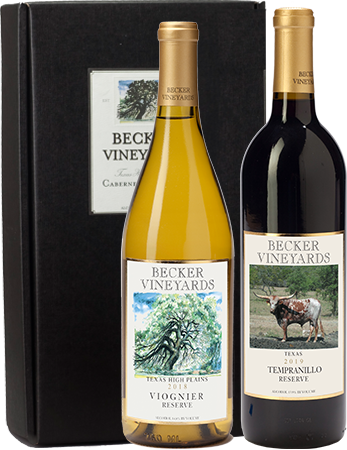 All Gift Box orders will be shipped out within 5 business days of order date, unless customer specifies different request.
2018 Viognier Reserve

Pairing Viognier from three Texas High Plains growers allows the terroir of each individual vineyard to meld, yielding this voluptuous wine. A touch of Roussanne adds an additional layer of complexity and elegance. Using only French oak barrels for aging brings forth a lush, creamy mouthfeel and warm vanilla. This quickly opens up to reveal a burst of refined citrus and golden apples, with lingering guava and a soft orange cream sickle-like finish.

DOUBLE GOLD - 2021 San Francisco Chronicle Wine Competition

2019 Tempranillo Reserve

A portly little wine, the 2019 Tempranillo Reserve is a mix of Texas High Plains and Texas Hill Country Tempranillo, with a touch of Tannat. You'll find cherries galore: sour, Bing and dark, with dried apricots, finishing with hints of cereal and candied blueberries (think Cap'n Crunch) . Bright acidity and subtle tannins allows the fruit to shine, caramelized brown sugar over toasted pine.
Product Reviews