Jolie 2017

---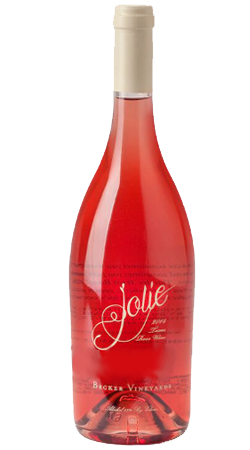 Jolie is inspired by the fantastic rosés of the Alto Douro of Portugal and Duero River Valley of Spain. Using the saignée method of "bleeding" juice from Merlot, Cabernet Sauvignon, Malbec and Dolcetto grapes gives Jolie the fuller bodied, fruit-forward style. Fermenting at cool temperatures, much like a white wine, ensures the fruity and floral aromas. It is a perfect wine for both red and white wine lovers to enjoy; the wine of compromise, at home on a warm summer's day or Thanksgiving dinner.
Serve chilled and enjoy while young
Aromatics: Apples, roses, candied cherries
On the Palate: Bright cherries, ripe watermelon, lavender, fresh thyme
Wine Specs
Harvest Date
July - September, 2017
Fermentation
Stainless Steel
Residual Sugar
Dry, 0.4 g/L
Wine Profile
Food Pairing Notes
Fish, grilled or baked; lamb, goose, hard cheeses, fruit dishes, spicy cuisine
Product Reviews
Amy Hadley
(Nov 2, 2019 at 3:41 PM)
This is my new favorite. It's very refreshing and light. It's sweet, but not too sweet, as some roses can be. It pairs wonderfully with almost anything I cook. Very versatile in my opinion. I'm definitely not a wine connoisseur but have been drinking wine for about 20 years. First wine in a long time that I'm having to special order because I cannot get it where I live. That's how much I love it!
Lisa
(Feb 27, 2020 at 8:25 AM)
Really enjoy this Rose so PLEASE don't stop making it!! Perfect sweet/dry balance and delicious to drink with almost any type of food. Highly recommend!
Heather
(Mar 20, 2020 at 6:05 PM)
My girlfriends and I agree it's the best Rosé !
Karen
(Apr 6, 2020 at 10:41 AM)
Perfect light rose! Chilled a bottle as soon as I received my shipment.
Nancy
(Jun 20, 2020 at 6:10 PM)
We love this wine! It's a perfect summer wine. Goes with everything. Luv that it's not a sweet Rose'.
suzanne keating
(Jun 30, 2020 at 9:39 AM)
The PERFECT rose'!
Ann
(Sep 6, 2020 at 11:49 AM)
The best Rose I have had.
Maria
(Oct 28, 2020 at 12:31 PM)
This is first time I tried this product and I'm in LOVE! The best Rose I encountered.
Wiley Thomas
(Mar 2, 2021 at 6:35 PM)
I love French Rose's but this is even better! It is dry enough to compare with the French wines but has more character - not sweet but the fruit comes out.
Chaunte Thompson
(Mar 5, 2021 at 9:48 AM)
Perfectly balanced Rosé! Not too sweet, not too dry. Delish!