Lavender Basket Christmas 2023

---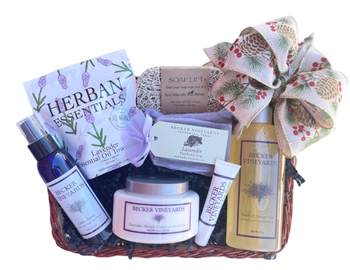 *FREE SHIPPING FOR GIFT BASKETS!*
This delightful Lavender Gift Basket combines various lavender-themed items to create a soothing and luxurious experience. This carefully curated basket includes a selection of lavender-scented products and accessories designed to promote relaxation and pampering.
Lavender Essential Oil Towelettes (7 individually wrapped): A convenient way to experience the calming aroma of lavender on the go. These towelettes provide instant relaxation and refreshment.
Lavender Linen Spray: Perfect for spritzing on pillows, linens, or even in the air to create a soothing ambiance in any room. The calming scent of lavender promotes relaxation and restful sleep.
Lavender Therapy Cream: A rich and nourishing lavender therapy cream designed to moisturize and soothe the skin. Ideal for indulgent self-care routines.
Soap Lift Soap Saver: This soap saver not only extends the life of the handcrafted soap but also adds a touch of elegance to the bathroom. It allows the soap to dry between uses, ensuring it stays fresh and ready for use.
Handcrafted Soap: A beautifully crafted lavender-scented soap made from natural ingredients. Lavender-infused soap provides a gentle and aromatic cleansing experience.
Lavender Lip Balm: Treat your lips to the essence of lavender with our exquisite lavender lip balm. Perfect for on-the-go.
Lavender Shower Gel: A luxurious lavender-scented shower gel that transforms a regular shower into a spa-like experience.
All Gift Basket orders will be shipped out within 5 business days of order date,
unless customer specifies different request.
Product Reviews