Lavender Essentials Bundle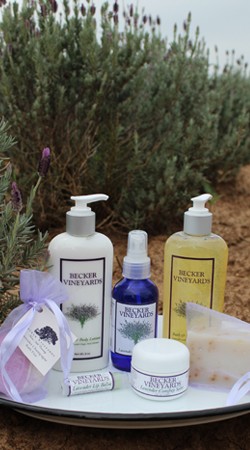 Lavender products to soothe and wash.
We've put together this bundle of our favorite essential Becker Vineyards Lavender products.
Enjoy them all shipped straight to your door!
$50.00 Wine Club price for everyone!
INCLUDES 1 each of products listed below
AND UPS Ground shipping!
---
Lavender Lotion
This lotion absorbs into the skin quickly and has a long lasting, healing, and moisturizing effect. Made with Becker Vineyards estate grape seed oil. 8oz bottle
Lavender Shower Gel
A luxurious foaming body wash. Made with essential lavender oil along with Becker Vineyards grape seed extract. 8oz
Lavender Room Spray
Want to spice up your home? Try using our Lavender Room Spray. Use on rugs, pillows, curtains, or anywhere in your home. Cobalt blue bottle with atomizer. 4oz bottle
Lavender Soap
Organic bath bar with a touch of natural botanicals and essential oil. Packaged in an organza gift bag. 4oz bar
Lavender Bath Fizz
Drop in bath water and let the fizzles take over your tub while you let your body relax.
Comfrey Salve
This all natural salve is good for cuts, burns, and abrasions. Comfrey aids in cell regeneration. Comfrey leaf infused in coconut oil, shealoe, beeswax, vitamin E and lavender essential oils. 1oz jar.
Lavender Lip Balm
Enjoy the day and smooth lips with our special handmade lip balm. Made with Becker Vineyards estate grape seed oil.