Lavender Mother's Day Special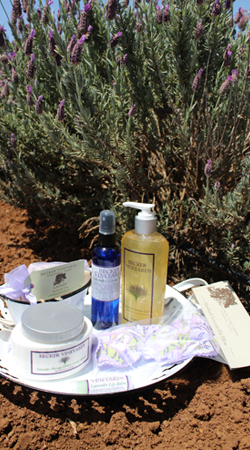 Lavender products to soothe and wash.
We've put together this bundle of Becker Vineyards Lavender products just in time for Mother's Day.
Enjoy them all shipped straight to your door!
$60.00 Wine Club price for everyone!
INCLUDES 1 each of products listed below
AND UPS Ground shipping!
---
Therapy Cream
A wonderful thick cream, made with shea butter, lavender essential oil, Becker Vineyards estate grape seed oil, and other natural botanicals to help nourish and hydrate dry skin. Use on hands, elbows, knees and heels.
8oz jar
Lavender Lotion
This lotion absorbs into the skin quickly and has a long lasting, healing, and moisturizing effect. Made with Becker Vineyards estate grape seed oil. 8oz bottle
Lavender Linen Spray
Linen spray is a great way to enjoy the wonderful fragrance of lavender. Use to freshen your sheets and pillows for a relaxing and restful nights sleep. Cobalt blue bottle with atomizer. 4oz bottle
Lavender Soap
Organic bath bar with a touch of natural botanicals and essential oil. Assorted lavender blend scents. Packaged in an organza gift bag. 4oz bar
Lavender Eye Pillow
Handmade eye pillow with a soothing blend of lavender and rice. Helps relieve headaches and stress.
Fabric patterns will vary.
Bathtub Soap Dish
Whimsical soap dish to perfectly display your new Lavender soap.
Lavender Lip Balm
Enjoy the day and smooth lips with our special handmade lip balm. Made with Becker Vineyards estate grape seed oil.
Product Reviews
Kali
(May 9, 2020 at 8:12 AM)
To say I am obsessed with lavender is an understatement, so I was thrilled when the lavender bundle was added. We had so much fun visiting Becker last summer, so I was happy to be able to support from afar. Everything in the kit smells awesome!
Lisa
(May 11, 2020 at 11:09 AM)
I am not always a lavender fan. However, when I saw the gift package, I was intrigued. I forwarded the link to my husband as a Mother's Day gift idea. He loved how easy it was for him to take care of that job earlier than the night before Mother's Day. I opened it yesterday and was so excited! The things smelled great but were not too overpowering. It was so lovely! I also sent one to my mom, who is very excited to have it.