Christmas Lavender Basket 2022

---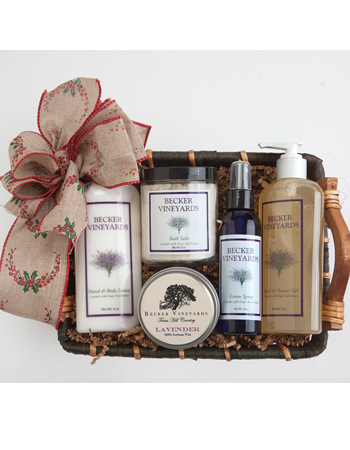 Lavender products for this holiday season.
This gorgeous Becker Vineyards Lavender Gift Basket is exclusively put together for a perfect gift for friends or family.
$50.00+tax & $10 shipping
INCLUDES 1 each of products listed below
---
Lavender Lotion
This lavender scented lotion absorbs into the skin quickly. It has a long lasting, healing, moisturizing effect. Made with Becker Vineyards Estate grape seed oil. 8oz
Lavender Linene Spray
Want instant lavender fragrance in your home? Try using our lavender room spray.
Spray on rugs, pillows, curtains, or anywhere in your home or office.
Cobalt blue glass bottle with fine mist sprayer. 4oz
Lavender Soy Candle
This candle is 100% soybean wax with a nice lavender fragrance, virtually soot free.
Burn time approx. 25 hrs. Made locally for Becker Vineyards. 4oz
Lavender Bath Salts
Organic lavender bath salts with a touch of natural botanicals and essential oil.
Lavender Sachet Petite
Lavender organza bag is filled with fragrant dried lavender florets. Perfect as a party favor for a wedding or shower. Organza bags may vary in color 3"x4"
Lavender Shower Gel
Lavender shower gel is designed to not just cleanse, but moisturize and enliven one's skin. Use as hand soap or shower gel. A luxurious foaming body wash. Made with essential lavender oil along with Becker Vineyads grape seed extract. A great way to enjoy the aroma of lavender with this hand and body wash. 8oz
Lavender Lip Balm
Enjoy the day and smooth lips with our special handmade lip balm. Made with Becker Vineyards estate grape seed oil.
Product Reviews