Lavender Mother's Day Basket 2023

---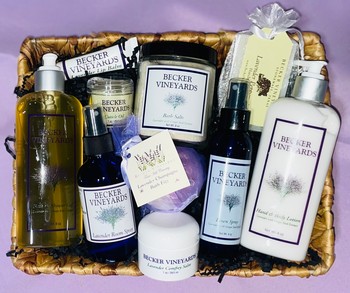 Lavender products to soothe and relax.
We've put together this bundle of Becker Vineyards Lavender products just in time for Mother's Day.
Enjoy them all shipped straight to your door!
Lavender Room Spray
Want instant lavender fragrance in your home? Try using our lavender room spray.Spray on rugs, pillows, curtains, or anywhere in your home or office.Cobalt blue glass bottle with fine mist sprayer. 4oz
---
Lavender Soap
Organic bath bar with a touch of natural botanicals and essential oil. Assorted lavender blend scents. Packaged in an organza gift bag. 4oz bar
---
Lavender Cuticle Oil
Cuticle oil is used to nourish, mosturize and restore nails and cuticles. Use daily to protect nails from drying and splitting. Ingredients: Oils of olive, jojoba, vitamin E, sweet almond, shea butter, beeswax, essential lavender oil.
---
Lavender Lip Balm
Enjoy the day and smooth lips with our special handmade lip balm. Made with Becker Vineyards estate grape seed oil.
---
Lavender Lotion
This lotion absorbs into the skin quickly and has a long lasting, healing, and moisturizing effect. Made with Becker Vineyards estate grape seed oil. 8oz bottle
---
Lavender Linen Spray
Linen spray is a great way to enjoy the wonderful fragrance of lavender. Use to freshen your sheets and pillows for a relaxing and restful nights sleep. Cobalt blue bottle with atomizer. 4oz bottle
---
Lavender Shower Gel
A luxurious foaming body wash. Made with essential lavender oil along with Becker Vineyards grape seed extract. 8oz
---
Lavender Bath Fizz
Drop in bath water and let the fizzles take over your tub while you let your body relax.
---
Comfrey Salve
This all natural salve is good for cuts, burns, and abrasions. Comfrey aids in cell regeneration. Comfrey leaf infused in coconut oil, shealoe, beeswax, vitamin E and lavender essential oils. 1oz jar.
---
Lavender Bath Salts
Unwind and bring ultimate relaxation to your home spa by adding lavender bath salts with lavender essential oil, oatmeal, and sea salt to bath water. 8 oz
Product Reviews
Romeo Delossantoscoy
(Apr 26, 2023 at 10:30 AM)
It's an excellent gift!
Melinda Stevens
(Apr 26, 2023 at 11:18 AM)
Love all Becker's lavender products!!! Every trip to visit Becker I bring back something for our daughters, friends and myself! All privy's are excellent!!!!
Colleen
(May 18, 2023 at 12:25 PM)
These lavender products are luxurious and make an excellent gift. Perfect for pampering!