Malbec 2016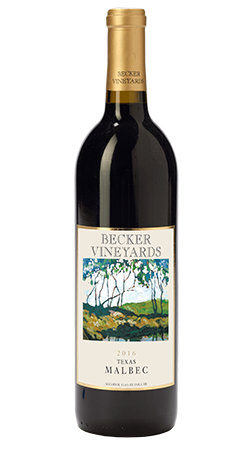 The best characteristic of Malbec is the smooth tannins, rich, deep flavors of stone fruits and earthiness - all which make this wine perfect pairing for any gathering.
The 2016 Malbec includes grapes sourced from Jet Wilmeth, Amanecer and Canada Family Vineyards of the Texas High Plains as well as Tallent Vineyards and Becker Estate Vineyards of the Texas Hill Country AVA. The grapes were harvested, fermented individually and, as a blended wine, aged in both new and neutral, French and American oak barrels for 16 months.
Aromatic: Bright red fruit and spice with hints of coffee, leather and rose petals
On the Palate: Brown spices, clove, dark red fruit, bright acidity, dark chocolate with bold tannins.
Wine Specs
Harvest Date
August - September, 2016
Aging
16 month, French and American oak barrels, new and neutral
Fermentation
French and American oak barrels, new and neutral
Bottling Date
March, 2018
Residual Sugar
Dry, 0.5 g/L
Wine Profile
Food Pairing Notes
Halibut, beef, BBQ and smoked meats
Other Notes
SKU 644412000758