Malmsey 2015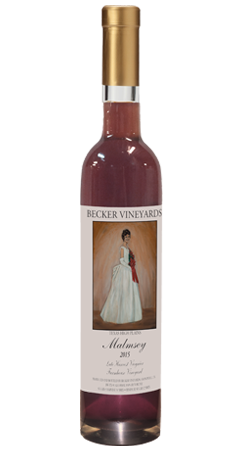 Becker Vineyards Madeira-style winemaking continues to be one of the most interesting wine projects.
It begins with grape growers willing to allow some of the best Viognier grapes to hang on the vine, weeks past anticipated harvest dates. As the grapes raisin on the vine, the sugars concentrate at 30%, creating a sticky, sweet mess. Fermentation occurs at a low, cool temperature until all that remains is 12% residual sugar at which point we fortify to 20% alcohol, halting fermentation. The wine is then aged in neutral barrels, outside in the hot Texas sun. All of this results in wine filled with notes of carmelized sugars and maple.
Aromatics: Orange citrus and caramel
On the Palate: Rich layers of caramelized sugars, viscous, nutty oxidation, caramel, bright mandarin orange and dried fig
Wine Specs
Appellation
Texas High Plains
Vineyard Designation
Farmhouse Vineyards
Harvest Date
October 2015
Aging
Neutral oak under the Texas sun
Residual Sugar
Sweet 121 g/L
Wine Profile
Vineyard Notes
Farmhouse Vineyards
Food Pairing Notes
Dried fruits, cheesecake, almond biscotti
Product Reviews
Nova Muratalla
(Jun 20, 2019 at 7:54 PM)
My husband fell so much in Love with wine and he is a very picky person. Thank you so much for making him a satisfied customer.
Emily
(Jun 26, 2019 at 9:06 AM)
One of the only wines that my husband and I both agree on! Love it!
Joyce
(Sep 4, 2019 at 9:18 AM)
I really enjoyed this wine, can't wait to put it with ice cream.