Muscat Canelli Amabile 2016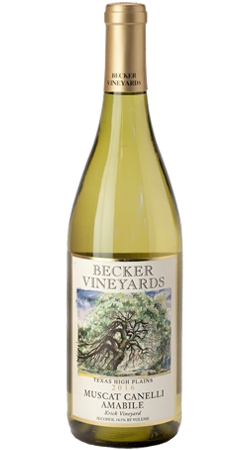 Intense floral notes of orange blossom and gardenia greet you upon opening this wine, reminiscent of sweet summer days spent laughing with friends and family. This wine is a single vineyard production grown by the Hill family outside of Lubbock, TX. The Muscat grapes are subjected to a long, cool ferment to retain the fresh floral and fruity aromas it's so well known for. Stopping the fermentation with 6% residual sugar complements the wine's natural sweetness.
Aromatics: Gardenia, orange flowers and fresh fruit
On the Palate: Tropical fruit, sweet notes of citrus and honey, caramel sugar, hints of honeyed apricot and melon
Wine Specs
Appellation
Texas High Plains
Vineyard Designation
Krick Hill Vineyard
Bottling Date
August, 2016
Residual Sugar
Sweet - 6%
Wine Profile
Vineyard Notes
Krick Hill Vineyards, Shallowater, TX
Food Pairing Notes
Desserts with rich cream, honey and fruits, soft cheeses, and milk chocolate
Other Notes
UPC 644412000489
Product Reviews
Jinu Thomas
(Jan 2, 2019 at 5:42 PM)
Crisp, Sweet with a ting of honey. Tastes really good if it's chilled. The bottle got over real quick 😊
W Scott Leigh
(Mar 16, 2019 at 3:38 PM)
I agree with the first review. It is a sweet wine but not without its own complexity.
Michelle DeRouen
(Jun 1, 2019 at 10:44 AM)
We love this wine!
Christopher Allen
(Aug 29, 2019 at 10:41 AM)
Most remarkable wine I had ever tasted. Highly recommend.