Muscat Chenin 2014

---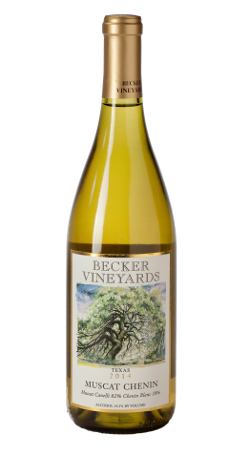 An inaugural blend for Becker Vineyards, combining Texas High Plains Muscat Canelli and Chenin Blanc, it announces with vibrant floral and citrus notes, that Texas Wine Country is a wonderful place to be!
Fermented in stainless steel tanks, aged in neutral barrels, the crisp fruitiness and full-bodiness is retained, elevating it to a perfect food-paring wine.
Aromatics: Notes of apple and citrus flowers, white peaches
On the Palate: Crisp apple, white peaches, and melon, finishing smooth and light
Wine Specs
Harvest Date
August, 2016
Fermentation
Stainless Steel
Residual Sugar
Sweet, 25 g/L
Wine Profile
Awards
2018 San Francisco Chronicle Int'l Wine Competition Silver
Food Pairing Notes
Spicy BBQ, Curry dishes, Schezuan pepper pot; fruit and veggie plates
Product Reviews
Mary knight
(Aug 3, 2018 at 7:20 PM)
Best wine I have add in a long time! Outstanding ! Loved it and want more!
Kim Hanna
(Apr 5, 2019 at 8:18 AM)
The wine is excellent! Charging me $10 for a small solo cup of wine to go without informing me, not so good. Other than that all was great!
Donna Viau
(May 8, 2019 at 10:57 AM)
bought one bottle. wish I had bought more. It is very good
DIANE KENNY
(May 5, 2020 at 7:52 PM)
Initially my favorite and I keep ordering more as my taste buds scream for more.
Robert Duncan
(Jul 4, 2021 at 9:46 AM)
A new favorite. Very refreshing from start to finish
Lawrence Latimer
(Apr 7, 2022 at 11:03 AM)
Very nice and refreshing. You can't beat the price either.
Angela Tripp
(May 5, 2022 at 6:53 AM)
Nice and light Several of us enjoyed it