Saturday, October 13 - Perini Ranch Dinner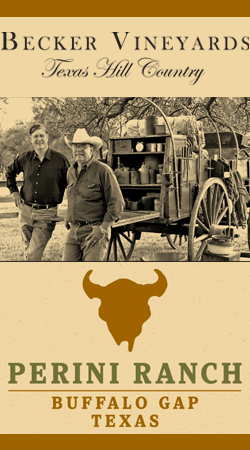 We do not mail physical tickets. Select "Pick Up at Becker Vineyards" upon checkout
You're invited to join Dr. and Mrs. Becker for a captivating evening of wine and food!
Perini Ranch will bring their James Beard Foundation Award Winning cuisine to Becker Vineyards to celebrate Texas Wine Month in style.
Special guest winery, Casa Madero, will also provide wine pairings to complement this outstanding experience in the Texas Hill Country.
Saturday, October 13th
Becker Vineyards Lavender Haus Reception Hall
464 Becker Farms Road
Fredericksburg, Texas 6:00pm Welcome Reception
6:30pm Dinner
Welcome Reception- Passed Hors d'Oeuvres
Jalapeno Bites Fresh Jalapenos, Cream Cheese, Bacon
Fried Quail Legs Texas Quail Drumsticks
Goat Cheese Crostini with Cranberry Pecan Jam
Dinner
Spicy Lobster and Shrimp Slaw
Lobster and Shrimp, New Orleans Remoulade Sauce, Shredded Cabbage, Roasted Pumpkin Seeds
Slow Braised Pit Smoked Beef Short Ribs
Roasted with Tomatoes, Mushrooms, Peppers
Grandmother's Mashed Potatoes
Roasted Brussels Sprouts
Homemade Bread
Texas Sheet Cake with Balsamic Strawberries
Award winning Becker Vineyards wines and Casa Madero selections will be paired with each course.
**No subsitutions on any of the menu items will be permitted.**
All seating requests must be submitted no later than October 6th.
/product/Perini-Dinner